Microsoft
Build your chatbot with no code: Power Virtual Agent
Publish Date: August 11, 2020
Most of us interact with artificial intelligence or AI and chatbots in myriad forms, daily – often unaware of it. In our very phone, we have AI recommending your next show on Netflix or YouTube video, Alexa playing your favorite playlists or even aiding online transactions across e-commerce, banking, taxes, and more. Driven by the ramifications of 'same-day-delivery' AI and automation has been perceived by businesses globally as an important source of workforce productivity.
Using computer programming for robotics – or 'bots' – you may be talking to virtual agents through messaging apps (e.g., Gmail smart compose), or even voice (e.g., customer services with telecommunications, or Google Assistant on your smartphone). Bots mimicking human conversation with AI-enabled language capabilities have matured customer engagements to a point where Gartner estimates nearly 70% of white-collar workers to interact with them daily, by 2022. Gartner even predicted that by 2023, 'Lawbots' or Virtual Legal Assistants will be able to handle a quarter of internal legal requests.
Over time, the power to even create bots from scratch without learning coding or AI expertise has emerged. Today we will dive into Microsoft's Power Virtual Agents, a pioneer in no-code bot creation platforms, and understand what makes them powerful.
Why chatbots? // AI-partners of Modern Workers
Conversational AI finds high importance more than its role of quickly addressing the needs of your key stakeholders i.e., customer, employees, audiences. Bots can help you automatically handle routine tasks, answer queries at scale on your behalf, or even take actions on your behalf (robotic process automation or RPA). These virtual partners allow your staff to focus on more complex tasks where human experts are better applied – enabling high efficiency and productivity gains. In fact, by 2024, nearly three-quarters of global enterprises will operationalize AI as per Gartner .
Without low-code, however, a few of the top challenges faced by businesses result from poor conversational platform strategy :
Inability to develop or source enterprise-grade chatbots to solve specific cases
High risk of failure without the right set of machine learning assets & accurate data science
Inability to periodically monitor and model management of bots
Inability to scale bot models to voice-enabled features
Incorporating subtle customizations to include tone, emotion or other soft features
Despite limitless possibilities, the power to customize bots and enable them with the right skills and logic was limited, until Microsoft's Power Virtual Agents came along in 2019. Built on top of Azure's existing AI smarts and digital tools to create bots, PVA is a graphical, intuitive, and fully-hosted chatbot development platform from Microsoft's Power Platform family.
The platform lets anyone – subject matter experts, citizen developers, professional developers alike – to build and maintain chatbots quickly. Let us understand its advantages for your business on Azure, if you are already not using it.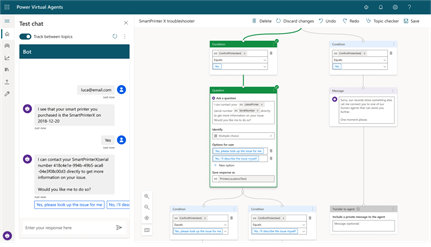 Why Power Virtual Agents? // Develop Bots on your terms: Power Virtual Agents
Bots from Power Virtual Agents can help you engage with your end-users virtually anywhere – on the web, Facebook, Skype, Slack, PowerApps, Teams – you name it. Beyond its low-code advantages, complex capabilities can also be seamlessly added using Microsoft's Cognitive Services and Bot Framework – only a few clicks away.
And because these bots are already integrated with Microsoft's Power Platform, you can use hundreds of pre-built connectors, so that your bots can easily (and as per standards) talk to your backend systems. Or even easily add more capabilities using Microsoft Power Automate or an API. Also, these bots become powerful and smart by learning every day and using AI to suggest new topics to builders as users interact with it over time. This means users do not have to spend much time and effort defining every possible Q&A, but instead rely on a tool to understand intentions and then trigger the appropriate action.
Finally, you can also continuously monitor and measure chatbot performance using AI and data-driven insights viewable on an easy-to-read dashboard. Meaning you can identify overall trends in user satisfaction, see which individual topics are working (or not), and understand which topics trigger the right actions to resolve issues.
One useful feature is that if you outgrow your low-code setup, and dig into the actual code, you can do that too. Of course, once edited with advanced code, it cannot be brought back to the no-code environment.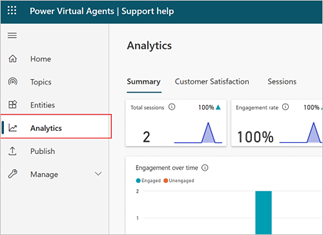 Scale virtually armed with data
We know that many organizations – big and small – are strained under increased demands for critical services, lines of business, or to create 'Crisis FAQ bots' like many have done during the COVID-19 pandemic. The end game of developing virtual workforces is that your organization never burns the candle at both ends when they face the need to scale innovatively.