Enterprise Services
SAP
Strategize your Service Parts Business to Get an Edge Over your Competition
Publish Date: June 22, 2017
For the wide range of businesses that deal with physical plants, heavy machinery or any equipment that consumes maintenance materials, spare parts management has to be a major consideration.
Successful businesses focus their service parts organisations on two critical success factors. These critical factors are the ability to provide superior service levels to both your customers and service engineers and minimising operational costs associated with procurement, logistics, and inventory. Successful businesses focus on their service parts organisations emphasizes on these critical factors, along with innovative marketing and pricing strategies.
After-sales service has become an essential part of manufacturer success, with an increased focus on staying competitive and maximizing revenues. This is can only be accomplished by understanding that a unique strategy for service and parts must be utilized to address issues in planning, procurement, warehouse operations, fulfilment, customer satisfaction, and repairs.


Four Key Factors Defining After-Sales Success:
Service parts management viewed as a unique, end-to-end business process, requiring specific resources and attention, separate from manufacturing strategies
Operations are optimized to reduce costs in planning, procurement, logistics, customer service, and inventory management
Visibility and awareness of operations with suppliers, dealers, and third party partners
Organization meets customer's expected service levels in a timely and efficient manner
Key Features of SAP Service Parts Management (SPM) Solution
Servicing is designed to achieve maximum customer satisfaction. The SAP SPM solution provides optimum cover for the processes involved.
Parts Planning & Procurement
SAP Service Parts Planning (SPP) was developed specifically for the service parts business. It accounts for multilevel distribution structures with vertical and horizontal product flows, including forwards and backwards directed logistics.
Supply Monitoring & Analysis
Demand, Supply and Inventory Planning
Distribution Logistics
Supplier and Customer Collaboration
Internal Assembly / Repair
External Procurement
Parts Warehousing
SAP Supply Network Collaboration (SNC) ensures seamless integration of your suppliers as a permanent part of your supply chain network, based on the "best fit strategy "to better manage and collaborate with your suppliers.
Returns and Repair Logistics
Inbound and outbound Processing
Internal Warehouse Processing
Parts Fulfilment
SAP Customer Relationship Management (CRM) including global availability check (gATP), ensures efficient task planning and execution for superior order processing, as well as customer oriented offer and request processing. With gATP, availability and delivery times can be confirmed immediately at the time of customer request.
Pricing and Marketing
Order Processing Including gATP
Claims & Returns
Fulfilment Monitoring, Operations Management and Service Fulfilment Management
Field, Mobile and Shop Service
Service Parts Analytics
Supplier and Partner Performance
Operational and Financial Performance
Service Demand Performance
Integrating with External Applications
SAP enables integration with external applications through SAP NetWeaver platform. The service parts management capabilities of SAP service and asset management are integrated by design with SAP NetWeaver and provides easy integration with legacy systems, third party applications and partner systems creating a common,accurate,real time visibility into all service and service parts activities. These service parts management capabilities are adaptive, integrating service supply chain and coordinating all service parts activities to meet customer's demands.
With a wide range of self-developed, external, and third party applications being used in the service parts supply chain we have identified and developed integration templates which are compatible with virtually every parts process; including:
Management Systems Supplier
Warranty
Parts Catalogs & Technical Info
Pricing and Dealer Systems
Customer Technical Support
E-Commerce
Shipping/Logistics/3PL Systems
SAP SPM helps you meet the demand while simultaneously reducing your inventory cost for service parts. The SAP service and asset management solution integrates all parts planning, procurement, order administration, warehouse management, transportation and analytics into one comprehensive SPM system that is accessible to employees, partners, suppliers and customers in your extended services parts supply chain.
Dr. Shashi Kumar Reddy Arjula Practice Lead – SAP Customer Engagement and Commerce Solutions in YASH Technologies.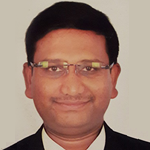 Practice Lead – SAP Customer Engagement and Commerce Solutions in YASH Technologies.