Automation
SAP
Digital Transformation with Hybris Customer Engagement and Commerce
Publish Date: June 9, 2017
SAP now has cloud-based industry-specific applications that will help organizations to move beyond traditional customer relationship management (CRM) and ensure complete customer engagement. With Omni-channel commerce capabilities of SAP Hybris and the power of the SAP HANA platform, SAP will deliver a platform for businesses to engage their customers anytime, anywhere, from any device at any point in their journey.
SAP offers solutions for customer engagement and commerce, including the Omni-channel SAP Hybris Commerce platform and the SAP Hybris Cloud for Sales, SAP Hybris Cloud for Service, SAP Hybris Cloud for Marketing and SAP Hybris Cloud for Social Engagement solutions, enable B2B and B2C companies everywhere to provide real-time, consistent, contextual and relevant experiences to their customers regardless of channel or device. SAP Customer delivers a fresh approach that promises to transform customer engagement through Hybris CEC solution.
Hybris Commerce
It provides an unmatched digital shopping experience with solutions for social, mobile and e-commerce. Take advantage of real-time inventory management, data-driven customization, cost-effective order fulfillment, and much more.
Hybris delivers a commerce software solution that is one of the best in the industry, helping an enterprise execute all its direct selling processes and present a single view and a unified experience to all its customers.
The solution is powered by best in class PCM module, fully integrated WCMS, i18N and multi-site features with industry specific accelerators for online stores, and sophisticated order management capabilities.
Why SAP Hybris Commerce:
Hybris – a J2EE based multi-tiered e-commerce framework, adopts an open architecture, which can connect to systems on extensions and modules, making it relatively easy to integrate new features and functionality into deployment. It engages customers in a contextual user experience that surpasses their expectations and drives sales revenue.
Drive customer engagement and sales to deliver a digital Omni-channel commerce experience from discovery to order
Engage clients in contextual experiences that match their expectations and drives sales. Hybris digital Omni-channel commerce management software can help you:
Create a seamless and highly personalized customer experience across every channel and touch point – and make it consistent from initial order to final fulfillment.
Consolidate sales, management, and service onto a single platform that's designed for Omnichannel Commerce and puts the customer first.
Hybris Cloud for Customer:
Hybris cloud CRM portfolio brings sales, customer service, and social CRM to help form powerful personal connections driving customer engagement across all channels. Hybris Cloud for customer provides sales personnel with tools for sales performance management, analytics and reporting, predictive analytics, lead and account management, and mobile sales.
The cloud-based CRM software, you can:
Bring sales, service, and social engagement in an integrated SaaS CRM system, subscription based and quick deployment
Real-time customer analytics and predictive insights
Running business anywhere, anytime and on any device with a mobile-first approach
Hybris Commerce provides users with various tools and services for customer experience management, merchandising, and product information management and order management.Hybris has set of modules in all these areas of digital commerce to provide seamless customer experience. Customers always expect a great experience wherever they buy. With Hybris, those expectations are met, delivering great experiences that gain the customers loyalty. We will talk more about individual modules in detail in subsequent blogs.
Hybris is a suite of products not one product with a suite of modules like ERP. It's unique and unprecedented approach for SAP. Hybris is a product family to cover all the products to manage end to end customer experience. Let's look at each of product from Hyrbis suite.
SAP Hybris Marketing
Hybris Marketing allows real-time contextual marketing. It helps engage with customers and nurture brand relationships.Hybris Marketing enables marketers to develop a deeper understanding of clients; their behaviors as to what they have done or what they may do, and most importantly what they are doing now
SAP Hybris Billing
Billing helps you monetize your products and services in real time using subscription and usage based billing. It offers subscription management and pricing agility, billing and revenue management, usage mediation and service Control.
The pricing simulation component helps you use pricing as a strategic weapon. You can configure innovative pricing strategies and see its impact on any service.
SAP Hybris cloud for service
SAP Hybris Cloud for Service helps you reorganize your entire customer service operation. With Hybris cloud for service, it is possible to have more service channels for customers, provide service staff with easy access to comprehensive, context-sensitive information and also provide service managers with real-time analytics on the performance of contact centers and field team.
SAP Hybris cloud for Sales
Hybris Cloud for sales is an effective and efficient solution for analyzing and controlling sales activities. It also offers tools that make work easier for sales resources and pave the way to the buying decision for your customers.
SAP Hybris Cloud for Social Engagement
This cloud software provides powerful models and tool for SMAC monitoring and engagement thus helping drive loyalty.
SAP Hybris cloud for social engagement capabilities:
Social Media Monitoring
Real-Time Facebook and Twitter Message Response
Complete Social Profile and History
Social Media Analytics
Implementation Experience
Digitization in commerce and shopping has phenomenally changed customers' expectations and purchasing decisions. SAP Hybris CEC, from marketing to sales and E-commerce to service helps tap these opportunities offered by the digitization through comprehensive multi-channel management of customer relations with interaction and transactions across the various customer lifecycle phases.

Dr. Shashi Kumar Reddy Arjula Practice Lead – SAP Customer Engagement and Commerce Solutions in YASH Technologies.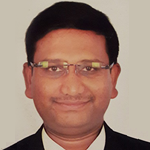 Practice Lead – SAP Customer Engagement and Commerce Solutions in YASH Technologies.