Automation
SAP
Engage, Innovate, Transform with SAP Hybris
Publish Date: September 1, 2017
Digital Business is the new mantra of the day and consumers are always demanding innovation and improvisation in it. Displaying the same products and offers to all the customers can create a poor user experience and will result in dissatisfied customers. Understanding preferences at every touch point are critical to maximizing customer lifetime value. Generating website traffic is also an ongoing challenge. Rich, seamless data and product content are essential to creating exceptional experiences and increase website traffic. SAP Hybris enables the creation of unique, highly targeted, personalized customer experiences. It also provides a broad range of web content management and merchandising capabilities to attract customers and keep them coming back.
Advantage SAP Hybris
Personalized Focus
It begins with the very first click. SAP Hybris helps to manage site content, layout and create highly personalized experiences across all channels. It allows customers to browse through the entire cata-log or quickly find what they want. Advanced search and navigation capabilities make it easier to explore the site, and get full control over search results and ranking of products. Customers can also be pampered through appropriate and timely rewards, offers, discounts and highly personalized treatment. And from the organization point of view, employees can be provided access to customer profiles, their order history, service history, and preferences so that they will also be able to deliver a personalized experience to the customer in every interaction.
Plan and be in touch
Industry participants will only succeed if they have a relentless focus on using technology to increase value-add to consumers. Consumers today are well aware and informed about the products they prefer to buy even before taking a purchase decision, through their research across various service platforms. SAP Hybris helps to operate as a single brand across all channels, to have control over customer experiences – both pre-sales and post-sales across all touch points. Customers can now put forth service requests even before the sales process begins.
Business on-the-go
To continually cater to the needs of today's' demanding consumer, field service agents and service managers need to have complete mobile access and must be equipped with the necessary tools to address customer issues quickly and efficiently. SAP Hybris gives the power to look up inventory information on-the-go and even order spares or replacements through the intuitive user interface on their smart devices on the job. You can also enable real-time communication between the field engineers and the back office; provide easy and quick access to pertinent information, and automatic tracking of time and resources for accurate, timely billing.
Quick Customer Snapshot
SAP Hybris provides immediate access to vital details about a client such as a name, account creation date and latest cart/order details. Customer service representatives can also view snapshot details about customer loyalty, their most viewed categories/products, preferred browsing devices and current shopping cart. They can also see the most recently edited items by a client: orders, carts, and support tickets all marked with a description, status and date created/updated. Customer service agents can also gain access to further details about a client such as their saved addresses and
payment methods, a detailed view of their favorite products, and suggested recommendations for the customer.
Customers today, prefer to have their queries or service support tended to in very few interactions. They demand prompt service with fewer interactions. It has, therefore, never been so much important than now for companies to adapt and offer an end-to-end service platform that will accommodate flat touch interactions to highly complex interactions, sometimes requiring field service. SAP Hybris helps businesses to transform the way they engage with their customers, innovate how they do business, and simplify their technology landscape. SAP Hybris enables organizations to cover every touchpoint in a customer service engagement and deliver service excellence. Customer service and support can also be provided through chat, video chat, social channels, SMS and traditional phone conversations. Service team can also retain customers' context from one channel to another, including integration to the SAP Hybris commerce storefront, to engage with their clients more efficiently and to come to issue resolution at the first point of contact.
Consistency across channels
With SAP Hybris, organizations can integrate with existing backend systems and consolidate multiple data domains onto a single platform with its scalable and user-friendly product content management solution. They can create a single source of truth with content consistency across all of the sales and service channels. They can also support collaboration between different departments to manage product content across channels.
Customer focused
Organizations can manage customer engagement all the way down the order line, from checkout to final delivery and return management, with a single view of inventory across the entire
organization, configurable availability to sell rules, and Omni-channel fulfillment options like 'Buy Online Pick Up In-Store.' SAP Hybris creates a self-service experience that boosts customer satisfaction and reduces support costs. Customers can search and find answers on their own. Customers can also view their recent purchases, register products, search communities or interact with a service agent to resolve their queries at their convenience.
Advantage Vendor
Vendors can now set up a workflow wherein responses to quotes can require second-level approval if it exceeds a certain threshold. This allows businesses to manage better large orders and discount values that may need internal validation. With SAP Hybris Sales representatives can create their quotes for sending to customers. This includes the capability to enter quote expiry dates, add comments to the prospective customer at both individual product level/quote level, and apply discounts to the order subtotal.
Enhanced Order Management
Order Management in SAP Hybris offers benefits to both consumers and vendors. Customers are empowered to view and manage their returns, allowing customer Service team to reallocate time to activities where more customer value can be added. Furthermore, the improvements to fulfillment allow businesses to fine-tune their sourcing logic. SAP Hybris also has some other features that include improvements to the SmartEdit feature which permits relevant content product carousels display and further personalization of offers.
Quick Facts
SAP Hybris has been recognized as a leader in The Forrester Wave: B2B Commerce & B2C Commerce Suites, Q1 2017 report.
More than 85% of consumers are willing to pay more for a superior customer experience, and 55% are willing to pay for a guaranteed customer experience.
(Source: The Huffington Post, 50 Important Customer Experience Stats for Business Lead-ers)
Customers who use SAP Hybris solutions see an average 21% increase in online shopping cart size
Customers using SAP Hybris solutions see an average 40% increase in online sales.
By 2020, 85% of a customer's brand experience will be without any human interaction or intervention.
(Source: Centric Digital, How Omni-Channel Customer Experiences Drive Brand Transfor-mation.)
Streamline the Customer Experience at Every Moment with SAP Hybris Cloud for Services. Get Free Consulting
Dr. Shashi Kumar Reddy Arjula Practice Lead – SAP Customer Engagement and Commerce Solutions in YASH Technologies.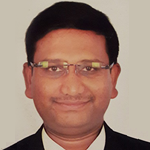 Practice Lead – SAP Customer Engagement and Commerce Solutions in YASH Technologies.