AMS
Game plan for incident reduction
Publish Date: December 12, 2019
In a challenging business environment, delivering excellence continuously to stay competitive is one of the critical requirements.
IT leaders constantly grapple with key decision-making initiatives of:
Investing in areas which can help the business stay ahead of the competition or stay with the competition / Transformational Initiatives
Reduce the cost of IT system support
Staying Agile
While each of these initiatives is a separate topic in itself, this blog would focus on methods to reduce cost and increase efficiencies through incident reduction.
IT support teams primarily focus on automation as a key driver for cost reduction and sometimes miss the source or root cause. Every incident is a cost to the company, and the cost is both direct as well as indirect. Direct costs include IT Cost of resolving the incident and the indirect costs include business time lost, and the business cost impacted because of the incident.
Key approaches on how Incidents can be reduced include traditional as well as futuristic models and the same are highlighted below: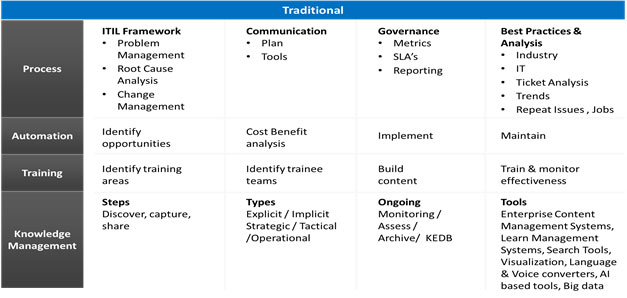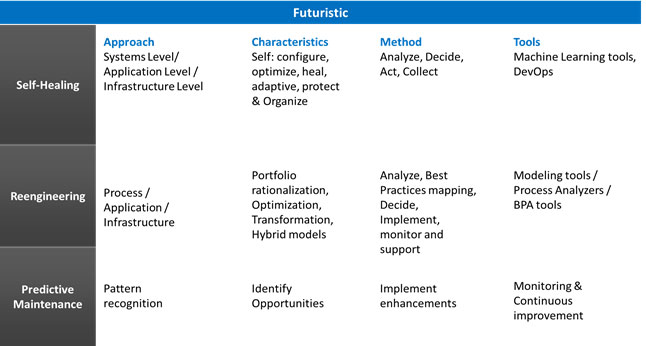 An objective look at data gives a fair understanding of the supposed approach and the model/models to adopt, keeping in view short, medium to long-term gains as well as the associated costs involved. Analyzing incidents and identifying patterns help in incident categorization into background jobs, integration issues, master data, configurations, user queries, service requests, security, and user administration.
About Futuristic Models:
Self-healing: Self-healing techniques can be adopted at the operating system, infrastructure, and application level.  The adoption is based on multiple factors like the impact of the initiative, business drivers, and pain points. Developing applications, smart alerts, continuous application monitoring and abnormalities reporting scripts, scripts to monitor CPU utilization, scripts for a server restart, and initiate steps to restore normalcy are some possible self-healing methods to adopt.
Re-engineering: Understanding the business, customer pain points, and analyzing the incidents would help in determining the need for rethinking current business processes. Future processes re-engineering and portfolio rationalizations are based on the current state of processes. Some of the BPR initiatives also result in more cloud adoptions. BPR's help organizations achieve a perfect state of operation, which in turn results in a range of benefits, including reduced incidents. With intelligent business process management tools, process mapping the task of re-engineering is now measurable and fast.
Predictive Maintenance: Manufacturing industry where production schedules are intense, and any unplanned downtime has an impact on the complete down-stream production activities with a considerable cost and time implications for the business. With the advent of IoT based technologies, machine learning algorithms, advancement in IT Hardware, and ultrasonic sensors have resulted in a plethora of opportunities in better monitoring, reporting, and proactive problem handling in manufacturing. Industrial-edge based applications like machine learning, artificial intelligence, augmented reality, and video analytics will drive operations efficiently and help plan a proactive maintenance strategy.
Low hanging initiatives to reduce incidents quickly:
Infrastructure uptime: Lot of incidents are created when a system goes down, ensuring that systems are available during business hours and managing the background job triggers help in the incident reduction
Testing: Often a low priority, but software testing is one of the key drivers to ensure quality deliverables into production and thereby result in reduced incidents
Self-service: providing users with self-help documents/portals/information and incentivizing them into using various self-help options is a good strategy and also promotes collaboration
Adopting these models based on the application landscape, ticket analysis, and organizational priorities at some of our customer landscapes has resulted in below cost savings through incident reduction.
A key driver to make this initiative a success includes base-lining and measuring of the incident data to understand the impact of factors that are in play. The data helps in focusing on the right and optimized strategy for an overall incident reduction.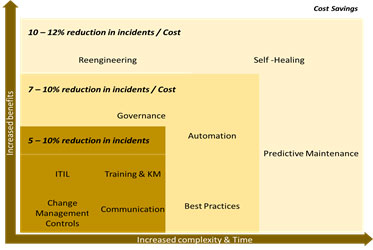 Key KPI's include:
Percentage reduction in the number of major incidents
Percentage reduction in the number of total incidents
Ticket volume trends, backlogs
Number of KEDB's, Training Materials consumed
End-user satisfaction levels
Incident cost per user
The percentage ratio of changes implemented
Incidents attributed to change
Incidents reduced thru problems
System availability
By focusing on Incident reduction as one of the key drivers, IT leaders can address the root cause and help reduce the overall IT costs significantly. As a part of overall IT project review along with other key metrics like incident open to close-ratio, cost of support, the incident reduction could be a crucial metrics to track and monitor, to drive efficiencies.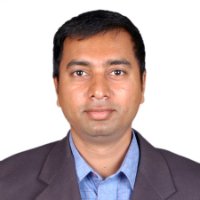 Program Manager