Automation
Chemicals
Implement digital transformation in the chemical industry to enhance the customer experience
Publish Date: November 2, 2018
Increased competition, evolving regulatory environment, demanding customer needs and dynamic cost equations are having a huge impact on chemical enterprises in recent years creating a progressively challenging environment. As a result, many chemical organizations are focused on reinventing their business and operating models through transformational trends emanating from other industries.
Case in point
A major paint manufacturer was facing a huge challenge as their customers wanted to involve more in the process of selecting paints and were also looking at a consultancy model from the organization. In such a scenario, commoditization had to be overlooked. It was time to build a new strategy. The organization also felt the need to transform their business digitally and provide a complete experience to their customers.
The organization implemented a B2B portal. Suppliers & subcontracts were linked through this portal. Also, an intuitive dashboard built on an ERP platform was put in place to help customers place orders and provide answers to their queries. This unified and efficient digital strategy freed up the organizations' resources and also added more value by providing consulting services to the customers.
Changing customer demand and expectations
As in the above case study, industries selling commoditized products are facing challenges from organizations that are willing to innovate and use digital transformation to meet their customers' demands. These new age organizations are selling customer experiences instead of products. Delivering a superior customer experience is essential to success in several industries — and increasingly, for B2B companies also. But customer expectations are constantly rising, and today many companies are looking for ways to move to the next level and provide an iconic customer experience. Better experiences can always turn loyal customers to evangelists of their products.
The chemical industry is one such industry that is also challenged by niche players who strongly focus on consumer demands. The chemical industry is not just about one single industry, but is a group of industries that produce a wide range of products like base chemicals, paints, beauty products, fragrances, food flavorings, etc., across many unique segments all of which face pressure due to fast changes in digital technology, consumer demand, and global competition. Many existing players in the chemical industry do have good legacy systems. It is just that their functions need to be amplified with the use of good digital technologies.
Changing channels: The right technologies and the right approach
Digital technology along with the data it brings holds tremendous potential for the chemicals industry and can all play a vital role in driving business value. But digital transformation alone isn't the answer. In the chemicals industry, it is the use of technology against the right digital strategy that holds the real value. This requires a focus on implementing a true digital core that enables a universal system of record through the business and a corporate mindset that can embrace agility, adaptability, and innovation, driven by a customer-first, design thinking perspective.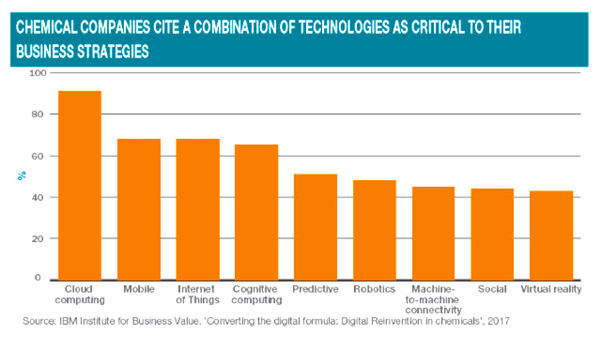 Details of few such strategies are listed below
Internet of Things (IoT) can connect several data points that provide greater insight into many factors that delight the customers. The Internet of Things (IoT) can leverage sensors to capture data from many sources namely raw materials supply, production details, and fulfillment of orders from the customers, and so on. As an organization, you can convert data from disparate sources into actionable insights and thus enhance customer experience and discover newer opportunities.
With the help of cloud-based storage systems, design ideas can be shared with different teams, the organization's agents, and even customers. When ideas are shared and discussed, the strategy helps in building a design that is customizable and scalable.
Analytics can correlate and help to gain valuable insights into the data from the organization. With better analytics, organizations can engage in preventive maintenance of assets and decrease machine downtime.
Wireless protocols and sensors can track the functions of equipment to be responsive to customers. Using innovations such as mobile technology enhances collaboration of teams and connects various departments in real time. When the various departments function in unison, products can reach the market faster and meet the customer's expectations.
Cloud solutions that provide the ability to collect and use that data better. With cloud solutions, companies can provide access to shared datasets to employees and supply chain partners. Enterprise resource planning (ERP) solutions allow companies to bring together disparate data sets from across the organization, organize it, and use it for more effective practices.
Advanced analytics programs can extract relevant information from unstructured data from myriad sources, and present that data in dashboards and reports that are most useful to end users. With information, often in real time, employees can optimize operations and make faster, well-informed decisions.
Machine learning can assist in the predictive maintenance of operational equipment and uses artificial intelligence and other technologies to help identify maintenance and repair issues. Equipment is optimized for less downtime due to repairs or broken tools.
Blockchain can provide secure and transparent methods to monitor transactions for products, materials, and supplies throughout the supply chain, from source to consumer. Blockchain can better track transactions for assets, materials, and products.
The scope of digital transformation in the chemicals industry
Chemical industries must leverage large amounts of data to understand their operations and their customers better and identify new revenue streams, including innovative services and outcome-based models. To thrive, chemical companies need to conceive and offer a compelling new customer or even end consumer experiences, advance their operational efficiency, launch or integrate with new digital offerings, and build innovation ecosystems.
With today's advanced capabilities in capturing, storing, processing, and analyzing data, a vast amount of plant, asset, and operational data in chemical industries can be used in conjunction with advanced algorithms to simulate, predict, and prescribe maintenance to increase assets' availability, optimize uptime, improve operational performance, and extend their life.
An application enables suppliers in the paper chemicals segment to implement sensors and other digital technologies to track how their products are integrated into their customers' This data, in turn, helps the chemicals companies to improvise their products based on utilization patterns and enhance their ability to proactively address customer needs.
IoT builds the foundation for machine learning in manufacturing and asset management of chemicals industry, as it can capture real-time data on asset status and performance, process parameters, product quality, production costs, storage capacity and inventory (telemetry), inbound/outbound logistics, workers' safety, pairing products with services, and more.
Advanced analytics and machine learning is being used for mitigating risks of supply chain disruptions. For example, in natural disasters shipments could be automatically re-routed to meet on-time delivery goals and customer commitments at minimum costs.
There is also an opportunity in optimizing the use of transportation assets and related costs. Moving chemicals often mean considering special equipment and complex compliance requirements, so empty backhauls are the norm rather than the exception. Machine learning could better leverage transportation assets to drive waste out of the logistics function, decreasing costs and optimizing asset utilization.
So, in addition to enhancing efficiencies and enabling decision making, the digital transformation must also provide a great experience to the customers.

As the chemical Industry find ways to be more customer-centric, it can apply some of the practices discussed above and use digital technology to re-think their traditional direct and indirect sales and marketing channels—while monitoring emerging platform-based channels. So, in addition to enhancing efficiencies and enabling decision making, the digital transformation must also provide a great experience to the customers. The future of the chemicals industry is in the creation of an ecosystem focused on improving the customer experience.

Contact us today to know more about how YASH can help you tackle the challenges that arise during a digital transformation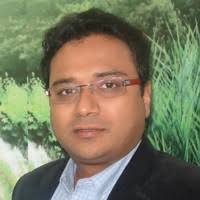 Country Head at YASH Technologies Doha, Qatar