Sustainability
Wisconsin's Clean Energy Plan: Paving the Way for a Sustainable Future
Publish Date: August 24, 2023
Wisconsin is emerging as a trailblazer in the fight against climate change and pursuing a clean energy economy. Under the visionary leadership of Governor Tony Evers, the state has embarked on an ambitious journey toward a greener, more prosperous future, and the last year witnessed a historic milestone as Governor Evers unveiled Wisconsin's first-ever Clean Energy Plan. This comprehensive roadmap promises to revolutionize the state's energy landscape while generating remarkable economic and environmental benefits.
The Clean Energy Plan of Wisconsin is not merely a policy document- It serves as proof of the state's dedication to sustainability, economic development, and the welfare of its citizens. Developed collaboratively with input from diverse stakeholders, it charts a transformative course that aligns with the urgent need to combat the climate crisis. Governor Evers encapsulated this initiative's essence: "We must reduce carbon emissions and support clean energy while creating good jobs and affordable energy. We can build a sustainable state for the future." [1]
Inclusive Clean Energy Workforce Development
Central to the Clean Energy Plan's success is generating a staggering 40,000 new jobs by 2030, at a rate of 6,000 new jobs each year. To ensure that these opportunities are accessible and inclusive, it introduces the Clean Energy Workforce Advisory Council, aimed at fostering workforce development through apprenticeship tracks and reentry training for previously incarcerated individuals. This commitment to training and the surging demand for clean energy professionals in Wisconsin guarantees that residents can harness the potential of clean energy careers and contribute to the state's economic prosperity.
A critical study commissioned by Clean Wisconsin and RENEW Wisconsin lends credence to the viability of Wisconsin's clean energy transition. The study's findings suggest a strategic shift towards 100 percent carbon-free electricity or net-zero emissions is achievable and could yield monumental benefits. These include a potential $16 billion boost to Wisconsin's economy, healthcare cost savings ranging from $2 billion to $4.4 billion by 2050, creating an additional 68,000 jobs, and even preserving lives. The statistics indicate positive prospects for potential opportunities in the future.
The Clean Energy Plan identifies four pivotal pathways that will serve as the backbone of Wisconsin's journey toward a clean energy economy:
Accelerating Clean Energy Technology Deployment: Through increased funding, innovative emissions goals, and equitable expansion of clean energy, Wisconsin is poised to leverage its existing policies and programs to usher in a new era of sustainable technology.
Maximizing Energy Efficiency: By setting robust energy efficiency standards and goals, the state aims to reduce energy waste, alleviate financial burdens on consumers, and contribute to a cleaner environment.
Modernizing Buildings and Industry: Addressing building codes, electrification support, and industry transition funding will drive the transformation of Wisconsin's infrastructure, making it a leader in clean energy solutions.
Innovating Transportation: By promoting low- to no-emission vehicles, enhanced refueling options, and improved transportation alternatives, the state is charting a course toward a greener and more accessible transportation network.
Wisconsin's Clean Energy Plan: A Holistic Approach to Sustainable Transformation
The Clean Energy Plan's ambitious objectives encompass a holistic approach to transformation:
Achieving 100 percent carbon-free electricity consumption by 2050, paving the way for a cleaner, sustainable energy mix.
Fulfilling the carbon reduction commitments of the 2015 Paris Agreement, positioning Wisconsin as a responsible global citizen.
Reducing energy-related inequalities that disproportionately affect low-income and minority communities.
Creating diverse and equitable clean energy job opportunities, fostering economic development, and retaining energy investment within the state.
Enhancing the energy system's reliability and affordability benefits residents and industries alike.
Bolstering the clean energy workforce through robust training and education, thereby aiding the transition from fossil fuels to cleaner alternatives.
Safeguarding human health and the environment by curbing pollution from fossil fuels.
Wisconsin's clean energy ambitions are backed by compelling data based on rigorous energy and economic modeling. The prospect of achieving net-zero emissions by 2050 carries profound benefits:

Injecting $16 billion into the state's economy, bolstering growth and prosperity.
Delivering healthcare cost savings of $2-4.4 billion by 2050, enhancing the well-being of residents.
Creating an additional 68,000 jobs, driving employment opportunities across the state.
Lowering fuel and energy costs, easing financial burdens for Wisconsin residents.
Slashing carbon emissions by an impressive 122 million metric tons, making substantial strides in the fight against climate change.
The Clean Energy Plan in Wisconsin is a plan for a sustainable and prosperous future. The state is a model for the rest of the world due to its visionary leadership, robust policy framework, and dedication to innovation.
YASH lauds this initiative and is happy to contribute to furthering the mission. We have several decades of experience creating long-term EHS sustainability roadmaps for multinational corporations and extensive experience in helping manufacturing, chemical, and high-tech industries achieve their EHS goals. Our value-driven strategy is supported by a team of highly skilled consultants and practice leaders, strong industry associations and technology partnerships, and dedicated centers of excellence.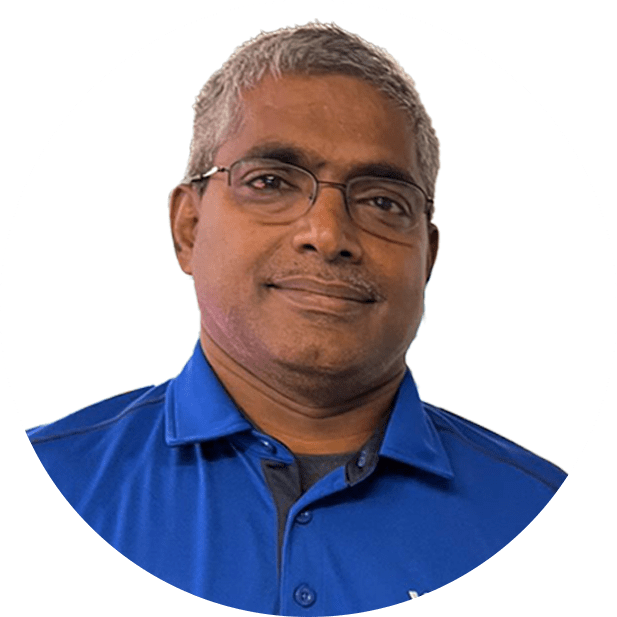 Regional Vice President at YASH Technologies, Inc.