You might have heard so much on Chatbots as everyone is getting involved in day to day life with Chatbots. The evaluation of Artificial Intelligence is now in full swing and chatbots are only a faint splash on a huge wave of progress. As Christina Malian said, "I think chatbots are the future of engagement between a fan and a brand of celebrity."
A Chatter Robot (Chatbot) is a type of conversational agent, a computer program designed to simulate an intelligent conversation with one or more human users in natural language via auditory or textual methods
How does it work?

There are many more chatbot tools available in the current market. Some of them are Google Assistant, Dialogue flow, SAP HCI with SuccessFactors, Kore.ai, Skype, Slack, Messenger, etc. Online chatbots save time into logging in SuccessFactors. An employee can simply ask either by chatting or voice message on his leave balance, can apply to leave and get approval from a manager. There are more functionalities which are being worked out to bring in Chatbot, and I am sure we can achieve this by 2020.
Here is the detailed version of Chatbot.

As I said, chatbot can be used with multiple tools through Artificial Intelligence and connecting/integrating with APIs of SAP applications like S/4 HANA, SAP Hybris, SuccessFactors, etc
Among all tools of Chatbot, I see more user and admin-friendly tool "Kore.ai."

In SuccessFactors, Chatbots are designed for seamless discussion between Employee and System (SuccessFactors) via automated interaction.
Kore.ai bot is used to configure Time primarily Off related queries for employees without login to SuccessFactors instance. Kore.ai processed the queries/chat/voice messages and accessed from SuccessFactors Employee Central Time Off, Performance Management, and Recruitment Modules.
When you logged into Kore.ai either on desktop or mobile using your mail id, it validates against your employee id in SuccessFactors through APIs and Artifical Intelligence, and provide the results for all your queries.
Here is one of the example where an employee logged into Kore.ai and open the chat.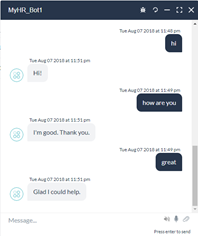 The chatbot machine learning and artificial intelligence and provide the answers which are configured in the backend.
Now when you ask "What is my current time account balance?", it asks about your employee ID which been fed in the back end to validate your employee ID against your data.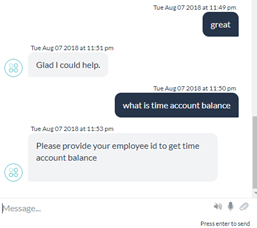 Then you provide your employee ID or person ID.
It queries the time account balance in the backend system (SuccessFactors instance) and provides the details of time account balance against your ID.
Benefits of Chatbot
The basic benefit of Chatbot is higher user satisfaction
It is available at all times (24 X 7)
It always fulfills the employee wishes and requirement with 90% correct answers by using artificial intelligence
It connects to the employee personally by providing personalized answers
This is another way of Innovative customer services
This can be implemented by web, mobile and messaging application tools
Another great advantage of Chatbot is "Simplifying Employees Life."
Visit Our SAP SuccessFactors HCM suite to transform your HR functions!
You can also read this blog by the same author on following link.
https://blogs.sap.com/2018/08/22/chatbots-provide-faster-self-service-on-successfactors-using-kore.ai/
Poorna Chandra Murthy Akurathi – Principal Consultant @YASH Technologies
More Blogs from this Author:
Comments
No Comments
Add Comments