Enterprise Architect YASH America Inc.
Automation
SAP
Transition to SAP S/4HANA – The sooner, the better
Last updated on October 21, 2019
In the last blog, we have seen
how proof of concept-based business case
would help you to get buy-in for your S/4HANA transition. In this blog, We will discuss why you need to begin the S/4HANA transition earlier.
While several customers have seen the benefits of transitioning early to
SAP S/4HANA
, cost control and competing priorities are major reasons for a delay in S/4HANA transition. While they will continue to consolidate their business steadily, they still end up with little time getting their digital tools up to the speed in terms of value and extract the maximum potential. As a result, they end up choosing the 2025 deadline as the motivator and begin when the time comes. That, however, puts the business behind the competition curve for sure.
.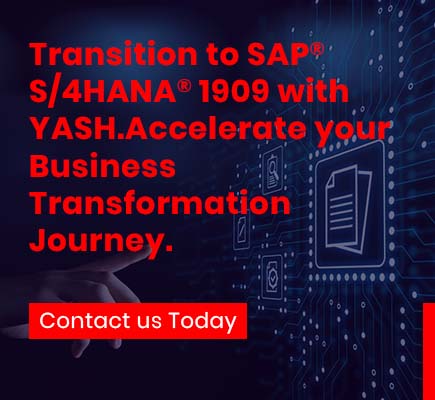 Delaying means your business has less time to catch up than those already using this technology to innovate. They are much likelier to face intense competition when it comes to getting the required resources and skillsets.
A few of the benefits of transitioning early are:
Reduce risks involved in Custom code conversion
In a recent survey done by SAP, 70% of respondents considered custom code conversion as a significant concern for S/4HANA transition. The SAP provides tools such as ABAP Test Cockpit (ATC) to analyze and remediate your custom code, and it has also added mass enabled quick fixes provision in ADT ( ABAP development tool) for semi-automated custom code adaptation. But analyzing, moving, or replacing your custom code with standard functionalities during S/4HANA transition consume efforts and time. If you are planning to move to the cloud, then custom code conversion is more challenging.
Improved data quality
As per the SAP survey, 61% of respondents considered data migration as a second major concern for S/4HANA transition, and 67 % of respondents considered data migration as the first major concern in recent ASUG (American SAP user group) poll. Larger organizations have a greater level of concern about moving to S/4HANA due to their larger data sets and the anticipated complexity of transition.
But S/4HANA transition projects also provide opportunities to improve your data quality and harmonize your master data and organizational elements.  It is always better to start early to clean up your data (ex. customer and vendor data) to reduce data-related risks in your S/4HANA project.
Address Data Model Changes early
Not to underestimate the challenges of deploying the new data model in S/4HANA, especially Universal journal, Customer Vendor Integration (CVI), etc., These data model changes require time-consuming activities (pre and post-conversion) and several rounds of testing.
Plan for Change Management
S/4HANA uses easy to use Fiori apps/tiles user interface compared to complex GUI (Graphical user interface) screens in ECC (ERP central component) system even though GUI can be used in S/4HANA except for multi-tenant cloud. Transition to S/4HANA involves significant change management for end-users, and all current users need training. Efforts are high if you are planning for new implementation involving business process changes. This end/power user learning process takes time, and human transformation is a critical factor in S/4HANA transformation projects.
Several ECC transaction codes changed in S/4HANA, which has an impact on your current roles/security design. Also, additional efforts involved in Fiori security set up on top of back end ECC security, and customers reported almost 40% of existing security roles needed rework.
Database footprint reduction and performance improvements
Through selective historical data migration and data archiving options, you can reduce your data footprint and use the HANA database to increase system performance.
Embedded analytics and predictive strategies
Real-time reporting and analytics have been identified as a top strategy by most business leaders due to the ease of predictive and accurate decision making. S/4HANA provides real-time drill-down analytics and predictive/simulation capabilities for the easy decision-making process.
Linking your intelligent ERP to business priorities secures support
By focusing on business outcomes and priorities early on, decision-makers can justify the business case and the ways of moving ahead of the pack. This is the foundation of how and why technology is to be used. This is why the sooner you begin your assessment, the sooner will you be able to differentiate yourself in the market. Longer you wait to migrate to SAP S/4HANA, the more the migration is likely to cost.
Boosting financial flexibility through intelligent ERP
Finance was cited by 74% of respondents as a top beneficiary of S/4HANA in a recent survey done by SAP. With S/4HANA, business leaders can reset their finance strategies, correct poor configuration, and inefficiencies. They can also deploy central finance strategies to provide a streamlined integration between different business units.
S/4HANA transition is more than just a technical upgrade
By transitioning early, business leaders can circumvent several obstacles in the early stages. The sooner you move beyond the basics, the sooner you can see results of your transformation and see business process efficiency. Knowledge transfer and contextual use of tools is a crucial element towards ensuring success.
Ensure technical Pre-requisites are planned
Before starting S/4HANA conversion, it is very important to verify system technical pre-requisites ( ex. Unicode conversion) and ensure your current source system is upgraded to meet technical requirements of conversion. These upgrades are also separate projects, and they need to be planned.
Regardless of your S/4HANA transition to on-premise or move to the cloud, YASH can help you plan your journey in a way that you realize the most impactful business results.
Stay tuned to my next blog series to discuss various deployment options and how YASH can help in your S/4HANA transition using SAP and YASH tools and services
Transition to SAP® S/4HANA® 1909 with YASH and accelerate your business transformation journey. _