Automation
SAP
Top SIX steps to ensure when migrating business data to SAP S/4HANA
Publish Date: August 7, 2020
Faulty data migration can be the downfall of any enterprise, which is why a comprehensive data migration kit is an absolute necessity while S/4HANA implementation. It is the solution that will enable you with the required tools to migrate both the master and transactional data from any SAP to a non-SAP system and then to a S/4HANA system. While the right functionality and testing are crucial, a lot of focus is necessary for the data that comes out of the legacy system to the new ERP system.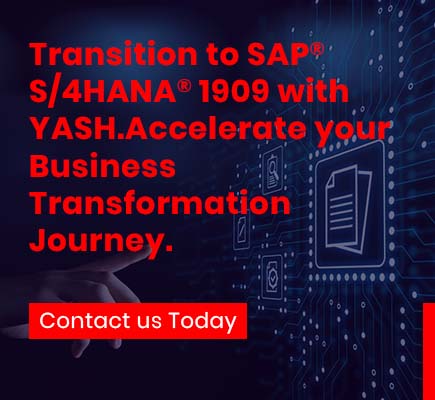 SAP has introduced plenty of new tools to enable smooth data migration for enterprise, and do not require any additional licenses. However, piloting the Data Migration Cockpit from SAP requires a few critical considerations.
This blog will delve into the top 10 key considerations when migrating your enterprise data. But let's first begin by determining the goal of any successful data migration project.
The endgame of a successful data migration when implementing S4HANA
The aim of a data migration project is not to simply assess, move, and transform information from one format/system to another. It is also to ensure that the migrated data is fit for use, is of high quality, and supports the underlying business objectives and operational processes. Typically, the data migration process is systematically performed to leverage automation and to eventually free up valuable human resources from manual, tedious tasks.
Now that we have established the target let's look at the top considerations.
Top considerations for data migration
#1 – Assess your options: SAP offers several new-age methods to move your data into S4HANA, including the latest S/4 Migration Cockpit and Data Services combined with SAP's Rapid Deployment Solution for S/4HANA. There is also the EY Intelligent Transformation Platform, an automation tool that can help you begin your data migration journey.
#2 – Define a strategy: A well-defined data migration strategy helps reduce your overall development effort. You have several tools at your disposal to that as well, including the S/4 Migration Hub Templates, SAP RDS Data Migration Solution (in case of Hub Template not available / doesn't fit your requirement), and SAP Data Services. With these, you can capture all data directly into the target environment.
#3 – Acknowledge the limitations of every tool: It's crucial never to miss a page from the S/4 Migration Cockpit, as each tool comes with its cons in addition to its pros. There are cases where Migration Hub Templates may not work for you, and you may have to develop data flows from scratch using the Migration Cockpit.
#4 – Know your configuration issues: One size doesn't fit all. Similar to it, the various migration functional unit testing and development/unit testing when running in parallel. It is never always smooth sailing when loading data is up for configuration, and these issues must be tested and identified for defects to seek further assistance form SAP's functional stream. The idea is to create a design that adheres to SAP's principles and standards, making for a better and streamlined solution for your consumption.
#5 – Check for add-ons: Even the Migration Cockpit is never always adequate for data migration to S/4. In such cases, add-ons like the rapid data migration to SAP S/4HANA solution lets you maximize the benefits of next-generation suites and even accelerate the processes of cleaning, validating, and migrating the data from any system to S/4.
#6 – Consult SAP experts: There is a myriad of legacy issues and complications that can be unraveled using DIY methods or by the internal IT teams. In cases when it is not possible to immediately solve issues or cut downtime, it's best to involve experts who not only understand the older technologies and environments but also possess clear and established ways to tackle such complications for your domain.
Use every tool at your disposal
Ultimately, your business must derive the maximum value from your S/4HANA investment, which makes it necessary to know the essential tools you need in your backpack before you set out into your digital transformation journey. The utility of each tool defines how comfortable your data migration process will be. SAP has not only made these tools readily available to make the process simpler and more efficient but also to save valuable time and effort in the process.
Transition to SAP® S/4HANA® 1909 with YASH and accelerate your business transformation journey. _