Automation
SAP
S/4HANA: Your choice between migration and new implementation
Publish Date: July 21, 2020
Change is inevitable. As someone rightly said, one shouldn't resist the apparently inevitable, as you never know how inevitable the inevitable was until it happened. Just the same, digital transformation is an inevitability. There is no changing how the world is going to be, eventually concluding why the question of letting go of legacy SAP modules to S/4HANA on the cloud is not 'if', but 'when'.
Indian businesses and even the government have also relayed the same lessons when it comes to SAP S/4HANA implementation. A simple look at the Maharashtra State Power Generation Co. Ltd. or MAHAGENCO's adoption of S/4HANA for responsible energy generation for over 15 million customers should suffice[1]. From operational excellence, making energy affordable, orchestrating efficient payroll, supplier and procurement processes, S/4HANA on the cloud has helped Mahagenco become agile and better at serving the Indian consumers' needs.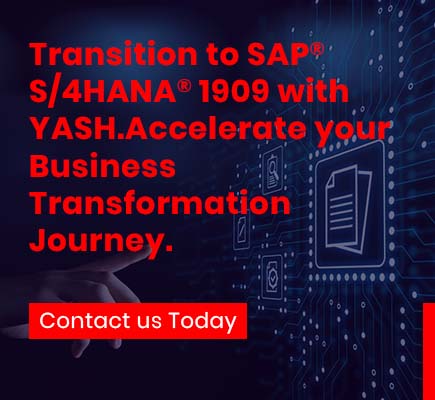 The first important step in the journey towards digital transformation for any enterprise is choosing to move. But there are plenty of doubts and indecisiveness around which approach to choose – migration or new implementation?
This blog will help you decide.
Three doors to access S/4HANA system
SAP provides primarily three options to adopt S/4HANA.
Conversion or migration from existing systems
New implementation / Greenfield approach
Central finance implementation
Central finance implementation is mainly for customers with a large distributed system landscape, although it is installed as an add-on side-car for financial and accounting documentation usually. We shall, therefore, only discuss the first two options – more relevant for customers introducing themselves to the S/4HANA cloud for the first time.
To know which method is appropriate between the two, business leaders first need to discuss, explain, and settle on their answers to these predefined scenario questions:
Do you prefer to enhance your solutions and your entire transaction history?
Does your existing system fulfilll the transition prerequisites (updating to the latest ECC enhancement package)?
Would you want an overhaul or a phased business roll-out (don't want to adopt all S/4HANA capabilities at once)?
Does your existing ERP system need a complete reimagining?
How well do you think the current system works (how satisfied are you with your existing ERP system)?
If the answer to all or majority of listed questions is YES, you may want to take a look at the pros and cons list to influence your decisions.
The case for migration
Conversion typically takes much less time than a new implementation as the SAP ECC system can be easily up and running with all the required integrations, authorizations, and functions. The key reasons favoring this decision are:
The move is faster than other methods
You can preserve historical enterprise data, all reachable on S/4HANA
Your investment is protected as the implementation does not need to begin from scratch
Change management for migration is less / more limited than implementation
You get significant innovation capabilities with industry/sector-specific business processes and added integration to the cloud for external SaaS applications, IoT, AI and more
No data uploading is needed, nor the initial load of master data or beginning balances
The only challenges to overcome here would be that the existing process re-design can be more stringent as they would need to meet the prerequisites of your previous systems.
The case against migration – New S/4HANA implementation
If the answers to the questions listed above are NO, it would mean that you need a completely new ERP solution.
In which case, it's best to go with the new implementation approach. You can start with the Greenfield implementation method, wherein by 'mapping and matching', you can (with SAP best practices as your guide) retain end-users on new processes by migrating the master data onto a completely newly designed system.
Adopt in phases – and look for the right support
Of course, one-size doesn't fit all for your transformation. Whichever path you choose, you should get answers about how long the transition will take from start to finish and what should be the plan for your business to address downtimes due to upgrades. If planned well, there will be no downtime or business disruption. Moving from SAP to SAP S/4HANA with a simple 'lift and shift' can prove to be a daunting undertaking if not planned. With support and guidance from an experienced partner for your industry, the right suite of solutions (with customizations when and where needed), you can effectively create an intelligent enterprise – with a single integrated architecture.
YASH Technologies has helped more than 200 customers across sectors find their true value with SAP S/4HANA by extending their legacy systems to the fullest capabilities. From solution assessments, sizing ad architectures on the cloud, YASH provides end-to-end migration, implementation, and complete SAP support to enable organizations to reinvent themselves in their own right and reach their potential.
Are you looking to migrate to S/4HANA with a tailored suite of intelligent solutions and modules? Check out our offerings
[1] SAP customer stories
Transition to SAP® S/4HANA® 1909 with YASH and accelerate your business transformation journey. _