SAP
Making ABAP models battle-ready for critical services and sustained growth
Publish Date: February 26, 2021
Support the ever-growing business requirements with new-age functionalities and transaction capabilities
Organizations continue to face increased needs for new features, functions, add-ons, etc., to keep up with the evolving nature of business and associated operations. For organizations running on SAP, aligning their IT landscape, leveraging ABAP is the first vital step. In fact, ABAP continues to be a critical part of the SAP technology stack for enterprises and SAP's next-generation S/4 HANA ERP platform on the cloud.
However, the organizations might face multiple challenges in engaging with an in-house ABAP development team that can cater to their needs. They face the lack of multiple development options to strengthen their SAP infrastructure and make the most of the technology stack.
Dilemma: Cost or growth?
It is undeniable that with the rising number and variety of technological options, the shortage of skills is also rampant in many areas. Not only does the cost of using the technology increases, but the ROI from the stack also decreases. SAP has been a classic example of an environment where the cost of acquiring and retaining skilled talent – particularly in the ABAP domain – has been a huge challenge for organizations.
The demand for ERP support, for example, is dynamic – it fluctuates according to the organization's needs. Given that ERP environments are becoming more and more complex by the day, your business operations and growth mustn't be hindered due to them. It is also critical that you have the right tools and talent to manage existing and emerging risks while generating ROI from SAP.
With YASH's ABAP Factory Model, businesses get several benefits as and when the company demands them. In case your IT team is dealing with a complicated head-scratcher, for instance, you can take advantage of our SAP subject matter experts and niche skills. Not only that, but you also can respond quickly to changes that are in demand at the moment.
Let's try and understand the framework to know how.
ABAP Factory Framework's secret SAUCE
To ensure a risk-free transition to any new updates, drive value across operations with optimized cost, and get full transparency over every quantum of work, YASH's ABAP Factory Model ensures that you have the secret SAUCE. By SAUCE we mean the four lynchpins of success included within the framework – Scalability, Accountability, Upskilling, and Cost-Efficacy.
The 'Scalability' feature of ABAP Factory Model ensures efficient capacity utilization, accurate demand forecasting and on-demand scalability with a 'core & flex' model. This involves two dedicated 'core' and flex' teams working together to sustain your business and IT edge. Each can be ramped up and down, as and when the need for specific expertise or increased resources arise.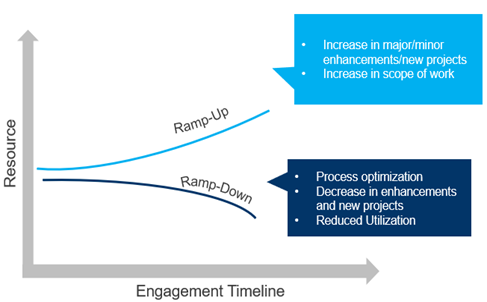 The 'Accountability' feature ensures faster completion and quality assurance for all developments. Not just that, it also ensures that investments in technology are not only business-relevant, but implemented with proper governance mechanisms and periodic reporting of engagement metrics. The 'Upskilling' feature ensures that both functional and technical teams are adept at adapting to new technologies with comfort and ease. Finally, the 'Cost-Efficacy' feature of ABAP Factory Model not only ensures that there is complete transparency in resource deployment and utilization, but also faster team ramp-up and ramp-down capabilities as per budgets and timelines.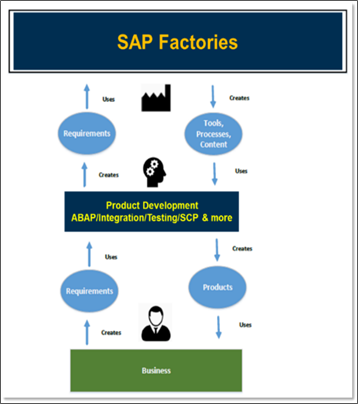 Service offerings and coverage
In order to help customers with a flexible, cost-effective solution to their SAP challenges, YASH has established various SAP Factories. YASH's ABAP Factory collaborates with customers and manages and owns the complete application development and support process.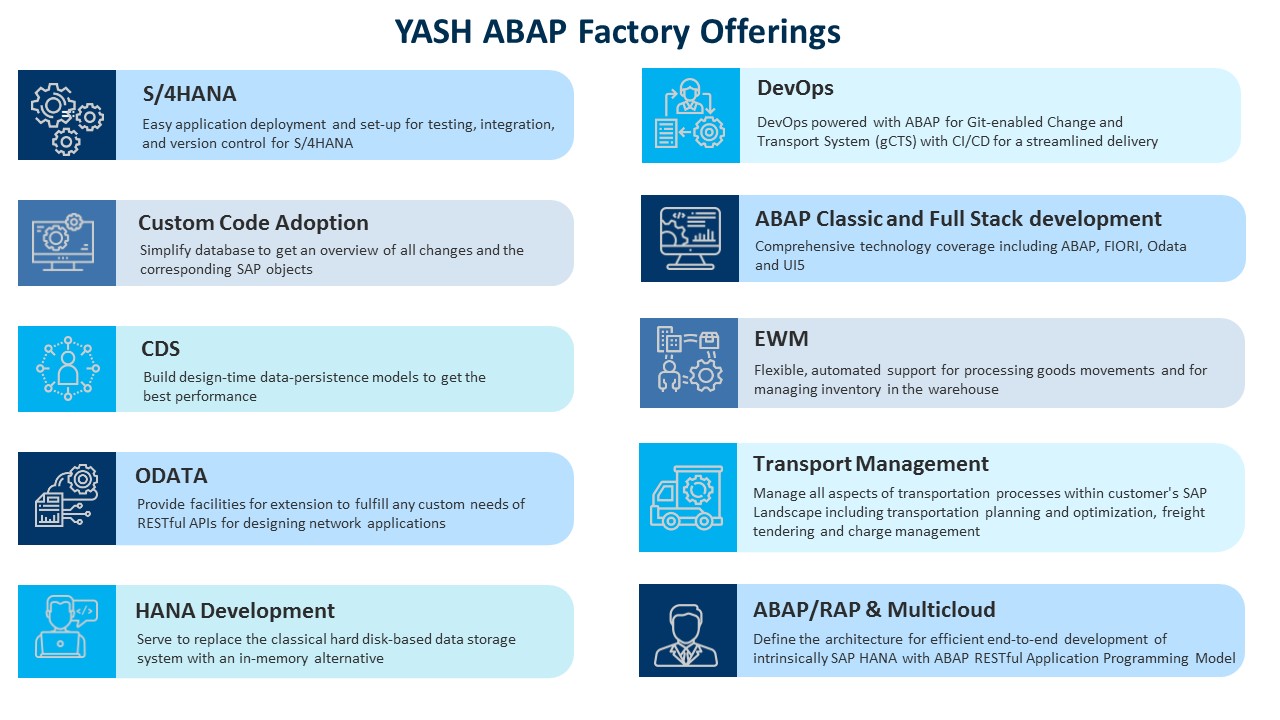 If you take the DevOps service line for instance, you can harness the skills of experts from utilizing DevOps on the SAP Cloud Platform, with ABAP, CI/CD pipeline, Git-enabled Change & Transport System (gCTS) and more. The ABAP/RAP & Multicloud service offering allows you to not only leverage SAP Fiori with ABAP, but also build new apps extending ABAP models, extend S/4HANA Cloud, decouple ABAP implementations from core systems and more. Every service line has a purpose, and collectively can be leveraged for sweeping transformations.
What are those benefits? Let's find out.
Success drivers for SAP ABAP Support Framework
Given the ABAP Factory houses a vast repository of topics, templates, codes, wizards, workflows, tools and more, its reusability is a huge advantage for businesses. Model source artefacts that can be compiled for various functions ensure that implementations predictable. A dynamic architecture of the framework empowers with the flexibility various members of the workforce will require.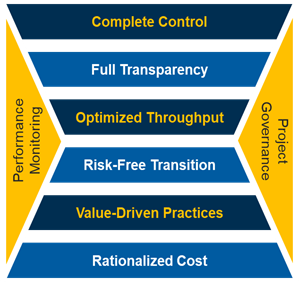 For instance, if an enterprise's goal is to achieve complete control over the execution, the Factory Model Governance can help. If the goal is to achieve full transparency over the quantum of work, the utilization & demand planning reports ensure that your systems' needs are met like a full-fledged factory. If you wanted to ensure that there were no dropouts in the throughput of your IT investments, proactive upskilling and cross-skilling can help your technical and operational teams evolve with ease. A well-defined knowledge transition ensues that every transition or update is risk-free.
Advantages:
Easy ramp-up/down
Delivery ownership with accountability
Transparency in utilization
Quality measures including internal code reviews
Support of functional and technical resources on-demand
Proven governance practices and mechanisms
The ABAP Factory Model approach allows you to immediately access a large pool of consultants and experts as per the best-fit, essentially reducing the iteration cycles of any development process, as well as the cost associated with it.
A proven SAP leadership and an ABAP Factory Model
The perfect storm of SAP's innovations and functionalities need to be inevitably addressed with resources and skills that justify your investment. With an acknowledged SAP leadership with 25 well-organized Centres of Excellence (CoEs), 3000+ consultants worldwide, and battle-tested global delivery capabilities, YASH doesn't just bring down the cost of running SAP ABAP but also helps convert it into a variable cost.

For more details check out YASH's SAP offerings, or write to us if you have any questions or doubts regarding the ABAP Factory Model.