SAP
SAP S/4HANA
Data Migration Approaches to S/4HANA
Publish Date: December 13, 2022
Are you in your transition to a new SAP S/4HANA Cloud system?
Organizations with complex system landscapes must take a nuanced and personalized data migration approach that best suits their business needs. A well-defined data migration strategy will aid them in ensuring business continuity, embracing innovation, and remaining relevant and competitive. Therefore, choosing the correct data provisioning tool for transporting data between various systems is essential.
We have discussed the Best Practices that apply to each SAP S/4HANA Data Migration (Hyperlink) Roadmap phase. Summarising the key aspects here
Yash Data Migration Services: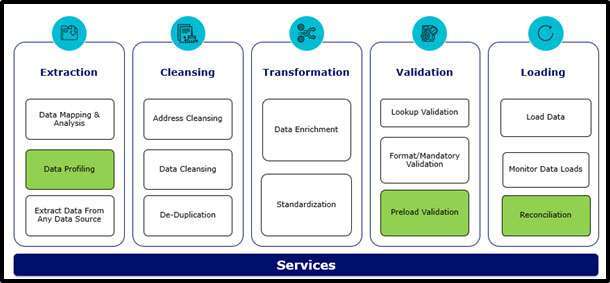 Extraction: It is the process of reading and extracting data from multiple heterogeneous sources such as Flat files, Excel, XML, Databases (Oracle, DB2, S4Hana, SQL Server), etc
Cleansing: The following process converts the source non-unique data format into the target unique format and helps to identify irrelevant data and correct incomplete, duplicated data.
Transformation: Post cleansing, the transformation process is implemented to convert all the acquired data per the business requirements.
Validation: In this step, we need to do Format, Lookup values, and mandatory checks, after which enterprises approve the data to proceed with Data Loads to the targets​.
Loading: In the final step of this process, data loading into the target system, post ratification and approval from the organization, is done.
This Blog will help you understand the YASH-recommended Data Migration Services and provide an overview of the 3 Approaches to the SAP S/4HANA Migration services Journey.
Approach-1: SAP Data Services (SDS): This is an ETL Tool poised to improve the data quality and migration-related services. Under SDS, the steps undertaken are as follows:
Extraction- Extraction of Data from diverse heterogeneous sources, including – Flat files, Excel, XML, and Databases (Oracle, DB2, S4Hana, SQL Server)
Transformation– The data is standardized for the target system during the transformation process, which is the most challenging stage. It involves combining various data sources, deduplication, aggregations, and any other business processes indispensable to turn the source data into the target data structures
Validation (Clean) – The validation step detects and records the existence of data-quality errors from the target side
Loading (Deliver) – This is the final step that involves loading the information into target systems or generating flat files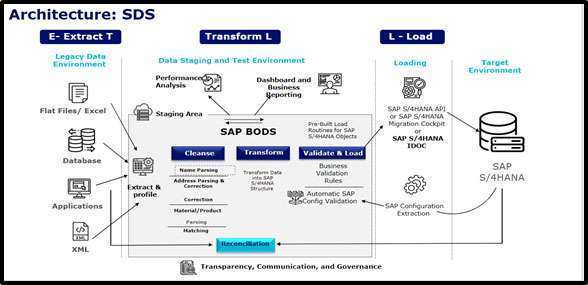 Job ScreenShot:

Approach-2: Smart Data Integration (SDI):  This ETL tool supports data extraction from various source systems to SAP HANA. As it is an inbuilt solution, separate licenses are eliminated. SDI provides tools to access source data, provision, replicate, and transform data in SAP HANA on-premise or the cloud. These tools then allow data loading in batches or real-time (for cloud or on-premise) from different sources by deploying pre-built adapters.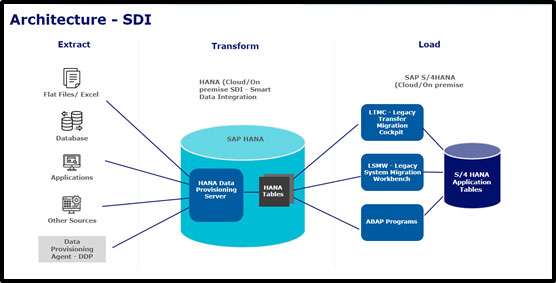 Flowgraph:

Approach-3: SAP Data Migration Cockpit (DMC): This Approach involves three different methods for transferring data to S/4HANA, viz;
File Method
Staging tables
Direct Transform
SAP S/4HANA migration cockpit is the best approach for enterprises that have installed SAP S/4HANA (new implementation scenarios) and want to migrate their business data from SAP or non-SAP software systems. A migration object enables transferring data from SAP S/4HANA to a specified business object. It details the requisite source and target structures, including their relationships.
The cockpit involves mapping information for the appropriate fields and any conversion rules used to convert values from source fields to target fields. Enterprises can thus utilize SAP's pre-set migration objects for their data transfer requirements.

File Method: It is necessary to download the template file before populating it with relevant business data for relevant migration objects; before carrying out the below steps, we would need to upload the file in the SAP S/4HANA data migration cockpit.
Step 1: The loaded template from the Fiori Migration Cockpit is needed. For this – Open Fiori by Transaction Code /UI2/FLP and click 'Migrate Your Data.'
Step 2: Choose "Create->Migrate Data Using Staging Table."

Step 3: Fill in the project name and keep the option below. Click Step 2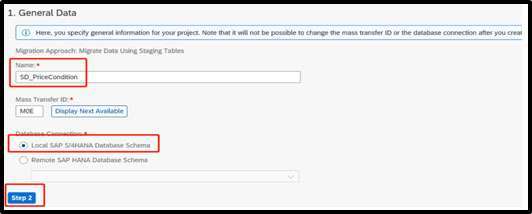 Step4: Double confirm the project name and object and then create the project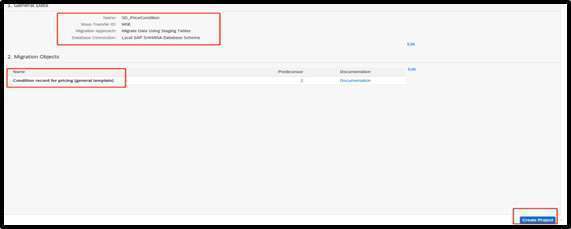 Step5: Click the down arrow and choose "Download Template," and save the template

Step7: Fill in the correct field's value in the template as shown below

Staging: In this step, the staging tables are created automatically (in an SAP HANA DB schema). Post which, the population is done in the staging tables with business data before transferring data from the former to the target SAP S/4HANA system
Step1: Select create🡪Data migration using a staging table

Step2: Enter Name 🡪Select Local: DB Schema the click on Step2

Step3: Select the Local package 🡪and click on Step3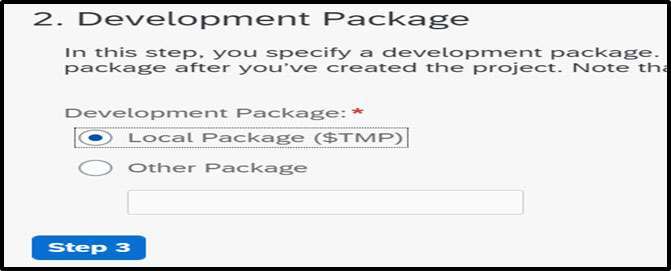 Step4: Double confirm the project name and object and then create the project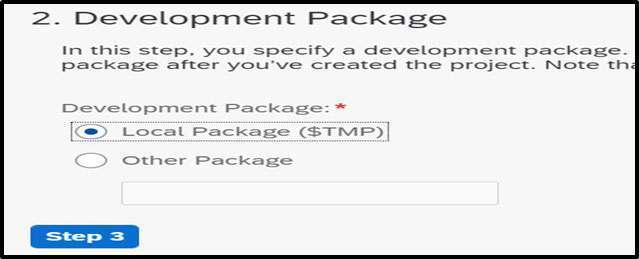 Step5: Click on Table "1"

Step6: Display the Staging table

Direct transfer: Transfer the SAP ERP source system data to the target SAP S/4HANA system. In addition to providing access to the source system through an RFC connection, Direct Transfer also supports data migration scenarios from other applications. The SAP S/4HANA migration cockpit is designed for an initial data load for the SAP S/4HANA (new) implementation scenario. However, it is not necessary to keep data in sync between systems, realize a continuous exchange or flow of data, or establish an integration scenario.

Steps:
Create new Project 🡪 Select Migrate Data Directly from the SAP System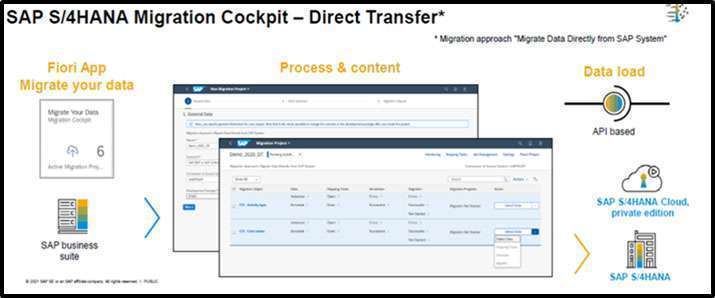 Initiate the process

Please find below to identify the Approaches aligned with your Business needs:

Are you curious how Yash Technologies can help you choose the proper Data Migration Approaches to S4HANA?
Yash is one of the most prominent SAP service providers globally. Our bespoke data management services are ideal for Data projects that integrate technology with best practices for Data Migration and Governance solutions. Our SAP Data Centre of Excellence (CoE) develops innovative frameworks and solutions on S/4HANA, HANA Cloud, and Business Analytics, among others, and has successfully helped clients reduce time to delivery and automate complex processes while managing data at scale.
Connect with our experts to choose the right approach.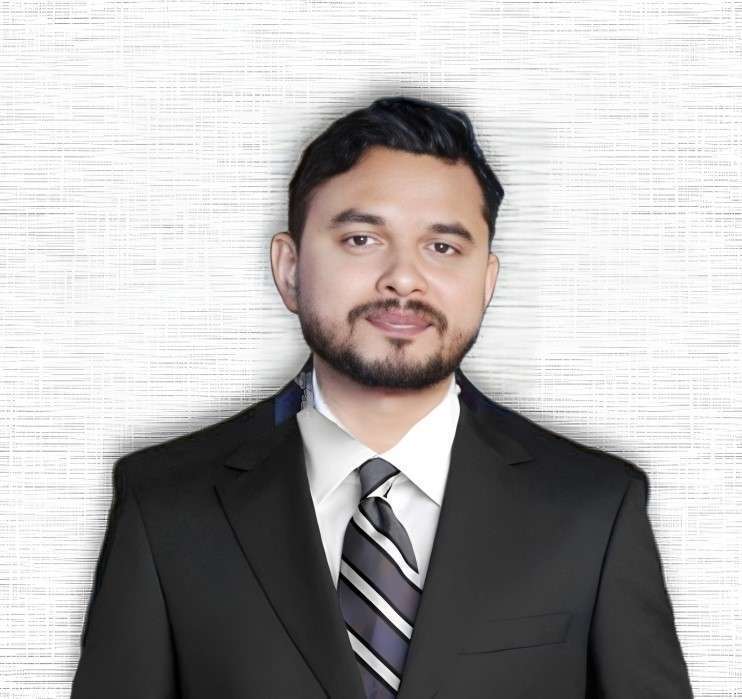 Sr. SAP Consultant