Indore, India [February 4, 2015] – YASH Technologies™, a leading technology services and outsourcing partner for global companies, today announced the grand opening of its twelfth offshore development center in Indore, India. The new state-of-the-art facility, located at the Crystal IT Park in Indore will be the hub for supporting many initiatives to serve our customers across the globe. The opening of the new center follows earlier company announcements of significant global expansions in Hyderabad and Pune, and more recently Singapore.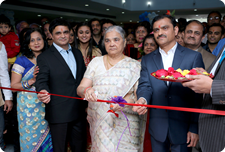 In 2000, YASH was one of the first to establish its Asia Pacific Headquarters in Indore and is now reinforcing its commitment to the region and the State of Madhya Pradesh, as it expands its operations with a second center. Indore is one of the fastest emerging IT corridors in India and is home to IT giants from around the world. It is a vibrant center of trade and commerce with strong infrastructure connectivity and is the economic dynamo of central India. While YASH plans to continue operations through its corporate office at Bansi Trade Center, the new facility will serve as a full-fledged delivery center.
With a seating capacity of over 500 employees, the new center will accommodate the growing innovation teams in SAP® HANA and other big data, analytics, cloud and mobility related technologies, and is expected to contribute significantly to YASH's global growth and revenue. In addition to offering the full portfolio of services and solutions to customers, YASH plans to concentrate on developing solutions for the manufacturing domain.
The new Indore development center was inaugurated on January 31st by Mrs. Shanta Devi Baheti, the first associate of YASH, Mr. Kirti Baheti, Managing Director and Mr. Manoj Baheti, founder and CEO along with Mr. Bala Navuluri, COO and other senior members of the management team at YASH Technologies.
Mr. Kirti Baheti sharing his perspectives added, "We have invested more than $3 Million (US) in this sprawling 55,000 square feet facility. Following suit to the recent expansions, the opening of this new center is a continued affirmation of the growth and success that we have experienced over the years."
Speaking on the occasion, Mr. Manoj Baheti said, "As an emerging IT hub, Indore is the new powerhouse for talent and it is my honor and privilege to extend YASH's presence in the region while contributing to its employment generation and overall economic growth." He further added, "The opening of our twelfth development center is a testimony to the expansive momentum that we are experiencing."
"We have been on a growth trajectory with 25% average growth rate for the last five years and a total employee base of 3900. India holds huge growth potential for YASH, prompting the company to invest heavily in this geography," said Mr. Bala Navuluri.
With the new center in Indore, YASH currently has 12 centers in India. For more information please visit www.yash.com or email info@yash.com.
About YASH Technologies
YASH Technologies focuses on customer success. As a leading technology services and outsourcing partner for medium and large global customers, the company leverages technology and flexible delivery models to drive performance and business value throughout a customer's enterprise. YASH's comprehensive service approach incorporates a holistic view of its customers that extends beyond delivery. This approach integrates enterprise solutions and services, proprietary best-practice offerings, strategic application and maintenance outsourcing, as well as consulting and integration services. YASH is a SEI CMMI (Level 3) and an ISO 9001:2008 certified company with U.S. and India headquarters and regional sales and development offices spread across five continents.