The company continues its winning streak, recognized as the best place to work in 2023 for the "Ninth Consecutive Year."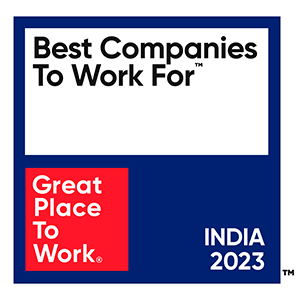 June, 2023: YASH Technologies, a leading global consulting, technology, and outsourcing company, proudly announces its inclusion in the esteemed list of India's Best Companies to Work For in 2023 by Great Place To Work® India. This remarkable recognition serves as a validation of YASH's commitment to its employees and its exceptional workplace environment.
"A thriving work environment is built upon a culture that empowers every individual to unlock their full potential. For years, our cultural foundation has been formed by our core values – our behaviours, our beliefs, how we develop people and how we do business," said Manoj Baheti, Founder and CEO, YASH Technologies. "Being acknowledged on this esteemed list nine times in a row is a testimony to our focus on helping our employees actualize their potential. We firmly believe that employee delight is pivotal in helping drive exceptional outcomes for our customers."
YASH Technologies offers its employees exposure to cutting-edge technologies, a distinctive work culture, and an innovation-driven environment that values and appreciates their contributions. YASH places a strong emphasis on employee well-being and career development, providing a growth-oriented atmosphere that is free from bias.
"Modern workplaces, evolving aspirations of today's workforce and an extremely competitive business landscape are transforming how employees and employers engage with each other. It is extremely heartening and a matter of pride that we have been recognized to be among the Best Companies to Work For consistently over nine years. We are happy that our highly regarded employee practices, inclusive culture and a deep connection between our associates and the leadership enable us to stand out amongst our industry peers," stated Dharmendra Jain, CFO& Head-HR, YASH Technologies.
Congratulations to YASH Technologies on this marvellous milestone. May your sustained efforts in cultivating an outstanding workplace inspire others to follow your lead. Together, we can forge a future where every organization embraces inclusivity and creates workplaces where everyone feels a profound sense of belonging and empower every individual to flourish and experience growth as professionals and as people," said Yeshasvini Ramaswamy, Serial Entrepreneur & CEO of Great Place To Work®.
Great Place to Work® Institute is a global research, consulting and training firm that helps organizations find, create and sustain great workplaces by developing high-trust workplace cultures.
About YASH Technologies:
YASH Technologies focuses on enabling its customers to reimagine their businesses and drive outcome-centric Digital Transformation. As a leading technology integrator and outsourcing partner for large and fast-growing global customers, YASH leverages strategic advisory, technology consulting, and flexible business models to help customers realize value from their digital journey while fostering innovation. YASH's customer-centric & consultative engagement framework integrates specialized domain & consulting capabilities with proprietary methodologies and digital solutions to provide secure application, cloud, infrastructure, engineering, and end-user-focused services for discerning customers globally. Headquartered in the US, with delivery and sales centers globally, YASH serves its customers across six continents. YASH is CMMI DEV V2.0 Level 5 & an ISO 9001:2015, ISO 27001:2013, and ISO 20000:2011 certified organization. For more information, please visit www.yash.com.
Media contacts