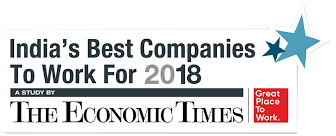 Organisation gets top marks for camaraderie, credibility, communication, pride, care, and respect for employees
Hyderabad, India (July 4, 2018) YASH Technologies, a leading global consulting, technology, and outsourcing company has been recognized as one of India's best workplaces for 2018, by the Great Place to Work Institute.  YASH's focus on building a unique organizational culture that fosters collaboration, trust and diversity have contributed to its strong performance.
Manoj Baheti, Founder & CEO, YASH Technologies said, "Listening to the voice of our employees and adapting to the same, are important facets of the environment that we have fostered within YASH. It is a matter of satisfaction that YASH is a Great Place to Work, four years in a row. With strong mentorship and an open style of communication, the talent pool at YASH is amongst the most motivated and engaged. Harnessing this momentum, we will strive to be the employer of choice in the Industry."
In addition to its people-centric culture, YASH focusses on building accessible and approachable organizational leadership and enhancing the spirit of celebration among its associates, ensuring that teams work cohesively.
Bala Navuluri, COO, YASH Technologies said, "YASH is known for its High-performance culture and a passionate team that addresses challenging situations with confidence. We feel happy that we are among a handful of IT Services companies that made it to this prestigious listing, this year. This recognition is a strong vote of confidence and pride that our employees have for YASH. Getting recognized continually as a GPTW is a testimony to the levels of engagement, collaboration, and camaraderie within YASH."
Highlighting the consistent focus on improving people management practices at YASH, there have been significant improvements in many of the parameters that are measured every year.
Commenting on the announcement, Dharmendra Jain, CFO& Head-HR, YASH Technologies said. "Emphasis on identifying & retaining high potentials, strong career management practices and accent on learning in combination with fun events and celebrations, has ensured that YASH is one of the most sought-after workplaces in the Industry. We have built a diverse and inclusive workforce on the bedrock of market leading policies and practices. Being recognized as a GPTW, four years in a row is a re-iteration of the employee-centric approach at YASH."
Great Place to Work® Institute is a global research, consulting and training firm that helps organizations find, create and sustain great workplaces through the development of high-trust workplace cultures.
For more information about YASH Technologies, please visit www.yash.com/ or email info@yash.com
About YASH Technologies
YASH Technologies focuses on enabling its customers to succeed and drive IT Business Transformation. As a leading technology service and outsourcing partner for large and fast-growing global organizations, the company leverages technology and flexible business models to enable innovation and business value throughout each customer's enterprise. YASH customer-centric engagement and managed services delivery framework integrate specialized domain and consulting capabilities with proprietary methodologies and solution offerings to provision application, infrastructure, and end-user-focused Right-Sourcing services. Headquartered in the U.S., with delivery and sales centers globally, YASH serves its customers across six continents. YASH is an SEI CMMI (Level 5) and an ISO 9001:2015 certified organization.
For more information about YASH Technologies, please visit www.yash.com or email info@yash.com.