SAP
Personalize your Learning through SuccessFactors Learning Management System
Publish Date: August 11, 2017
Today expectations are higher than ever for the Human Resources (HR) function in any organization. Executive management requires HR to be strategic, while employees demand support and responsiveness. It is difficult for HR department to support company goals with current HR information strategy due to multiple factors like many generations of workers, different employment contracts, and older HR systems. HR systems are expected to manage more employee data, produce reports and analytics that support the business strategy, develop and optimize workforce skills, quality, and utilization.
Top Challenges for Learning Programs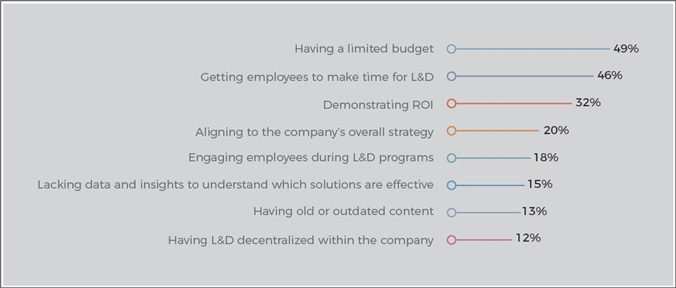 SuccessFactors LMS is designed to bridge the gap between strategy and performance by aligning people and processes with the corporate business strategy. LMS can scale as the organization grows. SuccessFactors LMS can help learning content live beyond the walls of a learning system and is the industry's most highly acclaimed learning management system. It combines formal, social, and extended learning with unmatched content management, reporting, analytics, and mobile abilities.
Organize learning content in one location
Instead of having the content spread out over different hard drives and devices, all the learning material is hosted in one place reducing the risk of losing critical data. Every employee can access the information on a cloud-based Learning Management System because it's all stored on a remote server. This makes SuccessFactors Learning Management Systems a natural fit for any growing organization.
Learning on-the-go
Today's modern learners must always be learning. In fact, they demand it. Learning takes place through a variety of sources and devices. With the influx of technology, learners today are adopting digital platform and tools to access content that helps learners to learn on the job and on the go. Statistics reveal that 67% of people learn on their mobile devices. A modern learning enables learners to access content on their terms with advances in technology, on-demand and self-directed. Mobile learning is now a necessity.
One of the key advantages of SuccessFactors LMS is that the entire content is managed by a dedicated cloud hosting center. Employees have unlimited access to the information they need. Those who are on the go can log in on any of their devices be it their smartphones or tablets as the LMS is independent of the device. Learners need not wait until their next training session to develop skills and complete work-related tasks.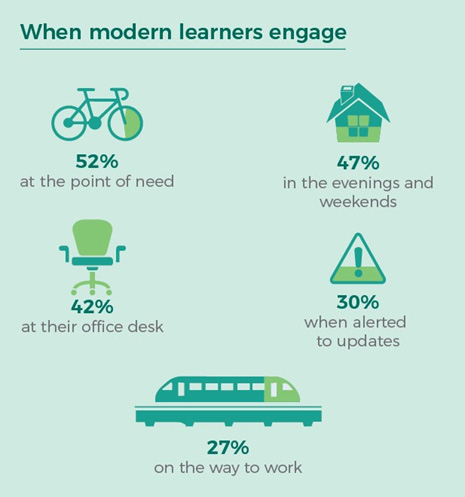 Flexi learning
Employees are more engaged with learning and are evolving at a quicker pace than the learning programs that support them. So, learning needs to be accessible and updated for growth to take place. With SuccessFactors LMS there are no limitations on the number of programs that can be hosted and can also be extended across the entire business as per demand. Not only internally, but learning programs can also be extended across to external participants (vendors).
Easily tracks learner progress and performance
SuccessFactors LMS keeps track of the learner's progress and ensures that it meets their performance milestones. With SuccessFactors LMS the employee can run the program at a stretch or as per their calendar. This flexi- learning system is a huge advantage and encourages the person to complete the course and not abandon it due to lack of time.
Reduces Learning and Development time
SuccessFactors LMS can even reduce online training time, thanks to the fact that online learners can just click on the online modules they need and get the knowledge in no time. Learners can also assess their understanding by taking online tests or quizzes, participate in interactive scenarios and simulations, and evaluate themselves on post training quiz-based tests. On successful evaluation, scores are displayed, and certificates issued too.
Keeps up-to-date with compliance regulations
SuccessFactors LMS lets you stay up-to-date with current compliance regulations. Compliance laws change regularly, and updating a traditional course to reflect these changes can be a time-consuming chore. However, SuccessFactors LMS gives you the ability to add new compliance standards to your online training course within a matter of minutes. Learners are made aware of the latest rules that they need to be mindful of so that the organization can avoid costly penalties. Also, every employee is on the same page as far as expectations and company policies are concerned, which boosts customer satisfaction and decreases employee turnover rates.
Quickly and conveniently appends to courses
Adding additional online modules to update information based on new trends or scientific evidence is very simple with SuccessFactors LMS, and the necessary modifications can be done without redoing the entire course. Since all of the content is in a single location, it allows you to change just the master course and then deploy it to all of the online learners. This is in stark contrast to a traditional course, where it is necessary to send an updated manual or handouts to every member.
SuccessFactors is one of the few learning management systems that can genuinely revolutionize and drive businesses towards growth by simply inspiring in a better way.
Happy learning!
Visit Our SAP SuccessFactors HCM suite to transform your HR functions!
Saratchandra Panganamamula, Practice Manager – SAP HCM & SF @ YASH Technologies.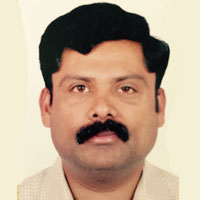 Practice Manager SAP