Application maintenance and support is a constant need for any organization to keep them running in fine fettle. And these support services are driven and delivered by industry standards like ITIL.
ITIL standards define support processes which cover all aspects of service delivery, and it also stresses on "Creation of value through service delivery". Now if we superimpose the transformational elements on these ITIL processes, we can quickly get a structured framework for transforming AMS services. In this Podcast let us look at three keyways to achieve it – one ticket resolution agents, second automation tools and the third service orientation.
Interested in finding out more about our AMS services, click here.
Host and Speaker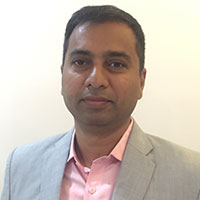 Srikanth Karunam
Bringing in over 18 years of experience IT consulting with specialization in SAP(ERP), with a proven track record in managing complex projects, nurturing strong client relationships & handling multi-regional projects. An SAP & PMP certified executive with experience in delivering Enterprise solutions and providing Project Executive coverage, Project Management, Functional Architect across SAP Sales, and Implementation engagements.