With increasing size and complexity of businesses, the number of resources needed to manage complex application increases exponentially. Similarly, there are lot of activities that are repetitive in nature which require no or very less decision making based on subjective information. And all these activities increase costs, choking much-needed funds for fostering business-centric innovation and transformation initiatives
The world of application management is increasingly leveraging AI, machine learning, Robotic Process Automation (RPA), cognitive computing, etc. IT Service management tools with infusion of robotics are significantly changing the way applications are managed.  Let us look at how automation in application management is benefitting an organization.
Interested in finding out more about our AMS services, click here.
Host and Speaker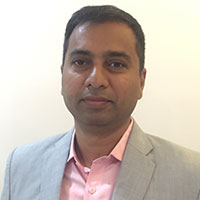 Srikanth Karunam
Bringing in over 18 years of experience IT consulting with specialization in SAP(ERP), with a proven track record in managing complex projects, nurturing strong client relationships & handling multi-regional projects. An SAP & PMP certified executive with experience in delivering Enterprise solutions and providing Project Executive coverage, Project Management, Functional Architect across SAP Sales, and Implementation engagements.