Healthcare
SAP
Bringing people, process, and patients together with SuccessFactors to transform HR in healthcare
Publish Date: August 16, 2018
Managing talent effectively is a challenge for every organization. However, in the healthcare sector where there is a direct impact on the quality of patient care as well as various regulatory and quality standards to be met, the ability to manage staff is critical. Healthcare organizations face a combination of challenges unlike any other as they seek to reconcile the need to operate as an efficient, integrated organization while meeting their core objectives of superior patient care provided in a timely and connected way. To do this, it's essential to bring together systems, services, and people to create a unified service better equipped to collaborate, lower costs, reduce waiting times and drive efficient workflows. The biggest issue faced by the healthcare sector is talent attraction and retention and managing talent is even more crucial to the success and sustainability of all healthcare organizations. This requires a combination of market-leading talent management technology and industry knowledge.
Key HR challenges facing Healthcare Providers
Healthcare has become one of the most regulated industries and maintaining compliance continues to be a top concern for many employers. With staff shortages, high turnover and complex regulations to sustain, HR professionals in the healthcare industry have an enormous undertaking. Hospitals, Clinics, medical practices, and other healthcare providers must perform thorough background checks on potential employees. Since healthcare staff is entrusted with the care of patients and their sensitive personal information, hiring the right person is extremely important to avoid patient and patient data mishandling.
Healthcare organizations should have the proper tools to track certifications, as medical professionals have continuing education credits that must be renewed annually. To reduce risk and liability, it's crucial to have a convenient system to track and report on each employee's certifications and license expiration dates.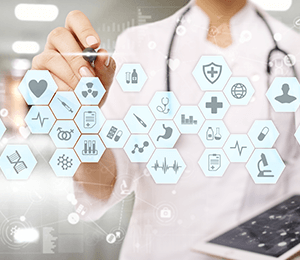 Workplace training focused on health and safety is very important in the healthcare industry. In workplaces with complex and potentially dangerous equipment, such as scalpels, syringes and X-ray machines, proper training is vital to keep employees and patients safe. It is also critical to track and have proof of that training to protect the organization from liability.
Healthcare organizations have different payrolls for different staff – physicians, nurses, medical assistants, lab technicians, and so on. HR organizations need to keep track of and automate these differentials and ensure that each of their staff is being paid correctly. With staffing shortages, the task of managing employee certifications and compliance regulations is always a challenge for healthcare organizations.
Traditional ways of doing things might not have a stand in today's ultra-competitive healthcare market. That is why it's mission-critical that health and medical providers engage a Human Capital Management (HCM) system that understands and supports their challenges, including recruiting, onboarding, time tracking, HR, payroll, reporting and compliance needs. Only then can healthcare providers get back to the mission of providing high-quality care to their patients.
Needs and challenges of an evolving digital healthcare enterprise
Core HR and Payroll Processes HR systems and processes must be able to keep up with organizational changes, and changes like work as automation gradually replace manual tasks. The need is for a single information system that integrates all employment data and enables the healthcare organization to automate processes and centrally manage global benefits and payroll, enabling sophisticated employee self-service, ensuring compliance
Centralized data simplifies workforce planning, reporting, and analytics, mergers, and acquisitions. This gives more comfortable access to critical, real-time insights into performance, a managerial span of control, benefits, costs, and more
For healthcare organizations today, self-service core HR processes and data are particularly important, as these empower their staff especially doctors, department heads, and nursing heads to instantly access information and insights and manage critical processes from anywhere
It is necessary to automate and streamline labor, time, and attendance management and also support time tracking for temporary staff and even manage the entire extended workforce holistically. Besides, the system needs to help manage complex shift scheduling too
Advanced support for recruitment marketing, multi-posting, career site building, and recruitment management to strengthen the entire hiring process and implement a seamless, digitally enabled candidate-centered hiring process
Personalized training and development through multiple channels, cognitive coaching, skill gap analysis, and extended learning to temporary staff, suppliers, and partners, and even customers is a criterion for a successful HR management system. Equally important is that the solution should institutionalize learning content and enable it to be searched, accessed, and reused with ease
It is also critical for healthcare organizations to track the proficiency levels of their employees and contingent workers across various skill sets to ensure that the right people are assigned to the right projects, roles, and locations. It should also empower managers to proactively manage certifications and plan suitable development efforts for each employee
Performance and compensation management should be simplified to make it easy to evaluate staff, access compensation, benchmark data, drive multiple pay and rewards programs for different employee groups, and track individual employee performance against position-level competencies
The system should also provide multi-dimensional, embedded people analytics and workforce planning tools that offer real-time insights and complex KPI management
Workforce planning functionality is essential to gain insights into current resource pools, future talent, skill requirements and gaps, HR policies, learning programs, and more
The HR management system should provide an entirely digital, always-on experience for employees and talent managers, complete with peer-to-peer sharing and mobile access to learning, processes, and information
The advantage of SAP SuccessFactors
SAP SuccessFactors solutions is a full suite of cloud-based human resource software and fully integrated HCM system that covers everything from core HR, payroll, and people analytics to the four pillars of talent management that include recruiting, learning and development, compensation and performance management. SuccessFactors helps ensure that healthcare organizations benefit from increased patient and physician satisfaction scores, reduced turnover, efficient recruiting and improved compliance. SuccessFactors caters to unique healthcare challenges – ultimately helping drive exceptional healthcare results.
Increased quality of hires, even for tough-to-fill positions
Lower workforce attrition rates
Standardized HR management processes and workflows
Reduced HR administration costs
Improved training and skills compliance through a sophisticated learning management system (LMS)
Solidified foundations for global talent management and workforce planning strategy
Improved workforce analytics
Improved workforce optimization
Improved workforce productivity
Healthcare industry is a labor intensive industry and requires strategic human resource management which involves managerial activities and tasks related to developing and maintaining a qualified workforce. There is a significant increase in investments and expenditures for healthcare services, resulting in the expansion of the healthcare market into a billion-dollar industry. According to recent surveys by the World Bank, the global healthcare expenditure in 2014 was USD 7.82 trillion and is expected to reach USD 9.2 trillion by 2018. SuccessFactors aims to help HR departments leverage technology to provide the processes and insights that will play an increasingly significant role in implementing effective initiatives to meet the business priorities of the healthcare industry. Soltius ME brings unmatched resources, top-to-bottom system support, and decades of experience and expertise to the challenge of improving HR in healthcare globally.
Visit Our SAP SuccessFactors HCM suite to transform your HR functions!
Reference : https://www.successfactors.com/en_us/about-successfactors
Saratchandra Panganamamula, Practice Manager – SAP HCM & SF @ YASH Technologies.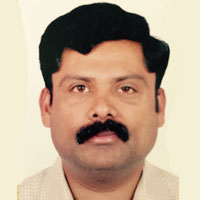 Practice Manager SAP