What is SAP BW4/HANA
SAP BW/4HANA is SAP's next-generation data warehouse solution. It is a new product from SAP (not a legal successor of any existing SAP Business Warehouse solution), built entirely on one of the most advanced in-memory platforms
SAP BW4/HANA provides a simple set of objects that are well suited for modelling an agile and flexible layered architecture of a modern data warehouse.
SAP BW/4HANA manages all sorts of data, whether from SAP applications or other systems, structured or unstructured, and allows accessing of all models through an open SQL interface.
BW4HANA Architecture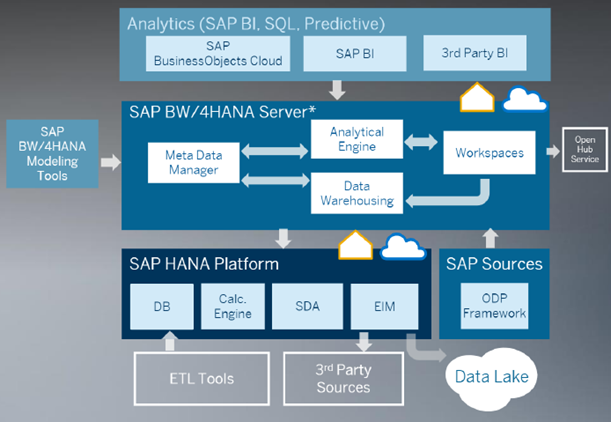 SAP BW/4HANA Benefits
Simplicity: SAP BW/4HANA enables businesses to get up and running with their data warehouse environment sooner than they would be able to using traditional technologies.
Openness: With an open SQL interface, BW/4HANAlets businesses manage data in SAP applications and SQL systems. BW/4HANAenables users to access data independent of data model

Also, access the front-end systems for the overall EDW environment using SQL.

High Performance: Businesses using BW/4HANAcan leverage huge amounts of data in real time for competitive advantage. The HANA in-memory platform allows for 10x faster data processing for operations and 10-100x faster query performance for analytics.
SAP BW/4HANA KEY FEATURES
In-memory Data Warehousing – SAP BW/4HANA brings real-time performance to the EDW with in-memory data warehouse processing. In-memory processing not only provides a performance boost of 10-1000X over standard disk-access database environments, it vastly simplifies the structure of the data warehouse and the amount of work required to make it functional.
An in-memory data warehouse running on HANA requires no performance-boosting objects to be built or maintained. It does not require aggregates or roll-up processes. It needs fewer indexes.
Simplified Data Structures and Flows SAP BW/4HANA accelerates and reduces the complexity of designing, implementing, and modifying a data warehouse environment via simplified data structures data flows. The number of modeling object types has been reduced from the standard ten types used by SAP Business Warehouse to only 4.

Native SQL Access SAP BW/4HANA enables users to access SAP HANA logic and data via SQL queries. Users can run SQL queries to generate calculated HANA views of data. Automatically generating SAP HANA views enables users to deploy SQL logic on top of generated views.
Dynamic Tiering SAP's dynamic tiring provides the ability to store data either in memory or on disk in a columnar format via the high-performance SAP IQ analytics relational database. This enables users to assign hot (active) data to the in-memory environment while handling warm (less critical) data in IQ. Cooler data (data that is less likely to be accessed) can be moved to near-line storage (NLS).
Smart Data Access SAP HANA Smart Data Access is a virtualization technique that enables businesses to merge data in heterogeneous EDW landscapes and to access remote data without having to replicate the data to the SAP HANA database first.
Advanced Analytics SAP BW/4HANA supports advanced analytics via the wide variety of analytical functions already available in the HANA Application Function Library (AFL) or via custom HANA procedures. Core analytics capabilities available via AFL include:

Predictive
Text Analysis
Data Mining
Machine Learning

SAP BW/4HANA also supports analytical procedures written in Rscript, the scripting front-end of the R analytical programming language.
Visit for more information on SAP HANA in-memory solution
Krishna Tangudu-SAP BI Consultant-BW/S4 HANA/BO@YASH Technologies
Reference – https://blogs.saphana.com