Digital is changing the game for manufacturers, especially SMEs. Forward-thinking manufacturers are aware that digital transformation is essential for profitable growth and sustainable competitiveness. Smart, connected products, plants, assets, and operations offer the potential for productivity gains, increased quality, cost savings, and improved revenue.

As a product moves from one process to another in an unstructured way, production becomes a complicated process. Increasing demand for custom products, smaller lot sizes, extremely short life cycles and new technologies built into products are just a handful of the challenges that discrete industry businesses are faced with today. Companies in the
discrete manufacturing industries
need to see their
digital transformation
as a journey. This journey requires a vision, a roadmap, a comprehensive approach, and a long-term commitment to changing processes and technologies.
Times are changing, technology is evolving at ever-faster rates, and those businesses unable to embrace creative new ways of using data, supporting innovation, streamlining processes and integrating their equipment with their systems risk losing their competitive edge – and their profitability. As information technology and operations technology converge, digital technologies are the primary drivers for the fusion of the physical and the virtual worlds.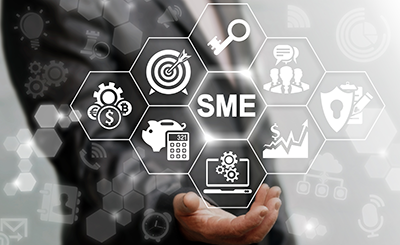 Biggest challenges faced by SMEs
The SME industry continues to be beset with paramount issues, despite various solutions available in the market. They end up deploying solutions that are expensive as well as inefficient, leading to reduced productivity, low ROI and reduced profitability for the industry as a whole. SMEs are still hampered with poor technology and homegrown IT solutions for reasons including high-cost, unavailability of quality and tailored solutions at the local level, inadequate service and support and also the reason that they have traditionally deployed solutions that are inefficient, and unproductive. They also have limited financial resources that drive them to select cheaper solutions and adopt short-term fixes.

Production planning is the key challenge, and it is crucial to produce customized products flexibly and rapidly while keeping minimal stock at hand and for this SMEs must find new ways to be creative with the tools at their disposal.
Product complexity is the second major challenge for SMEs as they should be able to design products that are both pflexible to produce, yet have many option, in the face of ever shorter product life cycles.
Traceability is also, and every step of the production process must be transparent through machine integration with multiple systems.
SMEs generally operate in an unorganized environment without processes, formalized workflows and standardized metrics that affect their quality of decision-making. A considerable part of the SMEs, are found to be looking for cost-effective, practical cloud-based solutions to solve their business problems and meet their daily requirements. The need of the hour for SMEs is solutions that have,

Flexible, data-enriched production processes
Production planning transparency
New technologies (IoT, sensors) to be built into products
Real-time reporting and analytics of shop floor processes
Optimized tooling implementation
Integration with cross industry processes like advanced planning and warehousing

How can cloud-based solutions benefit the SME Industry
One of the most significant barriers to technology adoption by SMEs arises due to a "fear of technology". This is a result of many factors including the reluctance to make a significant investment into something new and the fear of not being adept at new technology, limited training and unavailability of constant support. Cloud-based ERP is a flexible and cost-effective alternative for SMEs as it enables them to access incredibly robust technology at an affordable cost, at a low cost of ownership, with quick deployment and a fast return on investment.

SMEs generally operate on a limited budget and on-site ERP solutions might probably feature as a significant investment when compared to Cloud ERP solution, which does not require a substantial initial investment. They also eliminate the cost of installing and integrating additional hardware to support the ERP. Since all SaaS services are offered on a subscription basis, there are no unexpected costs, enabling the SMEs to keep a check on expenses regularly. Cloud ERP solutions can also be easily implemented and integrated faster into the SMEs activities. Cloud services are typically virtualized allowing for dynamic resource availability. This enables the SMEs to pay for the amount of usage that they need as it fluctuates with their demand. Cloud ERP enables mobility, allowing access from almost any device, anywhere, anytime. Also, additional users can also be easily added to the SaaS system without implementing any additional technology. This helps the SME with superior processes and easy to monitor MIS, resulting in transparency, real-time knowledge along with informed and timely management.

SAP solutions tailor-made for SMEs
Manufacturers in today's era of Industry 4.0 require solutions that are intelligent, networked and predictive. SAP manufacturing solutions specifically focused on manufacturing help SMEs take advantage of the Industrial Internet of Things by connecting equipment, people and operations across the extended digital supply chain and tightly integrating manufacturing with their business operations. SAP has a rather generous classification for SMEs and a range of tailored products for this market segment.

SAP combines various elements to help businesses grow different parts of their business. For example, the shop floor can be integrated with the SMEs broader business tools to ensure everyone has complete visibility of components and materials for single and global installations. Detailed analytics will offer insights into how the manufacturing process and the operations running alongside the shop floor activities are performing, which can then be turned into actionable activities to boost productivity. SMEs can then apply predictive algorithms to make their business more productive, reduce wastage and recommend better processes.

SAP S/4HANA, SAP's digital core and next-generation in-memory ERP suite, together with SAP's cloud applications and SAP HANA Cloud Platform, work in sync to help businesses become live and break away from boundaries and limitations of the past. Whereas enterprise line of business software applications of the past were heterogeneous, disparate, and siloed; today in-memory computing and modern cloud architectures have removed the technical constraints of the past, opening the door to a new suite of in-memory integrated enterprise applications. SAP's Digital Manufacturing Cloud integrates a collaboration platform with SAP Ariba, connecting SMEs with other service providers such as 3D and computer numerical control (CNC) printing services, material providers, OEMS and technical certification companies.

SAP Business ByDesign is a cloud-based enterprise automation suite which includes all major business functions in an organization such as finance, project management, HR, sales, marketing, procurement, and support. It is a completely scalable solution leveraging the benefits of a SaaS ERP and is offered on subscription-based pricing making it highly cost-effective. The solution provides the benefits of large-scale business applications, without the need for a large IT department and upfront licensing fees.

Being a cloud-based solution allows it the full benefits of mobility being available anywhere, anytime, and on any device and providing access to all the necessary information. This enables increased productivity and dynamic access to critical metrics at all times facilitating action wherever needed.

An able partner
From the very core to the edge of the enterprise and beyond, digitization stands to transform every facet of an SME. Embracing this transformation allows them to capture every opportunity presented in the digital world. Building a seamless, connected, and live enterprise that can work in harmony across departments, such as finance, human resources, extended supply chain, procurement and customer engagement, in combination with insights collected in real-time from operations and externally, through machines and IoT, to serve and delight customers has become the holy grail of many business and IT leaders.

Discover the value a cloud-based solution can deliver to your organization. Combining YASH global expertise in consulting, insight, and digital customer experience with SAP's suite of digital solutions, we have what it takes to make the digital manufacturing transformation happen. Together, we provide our customers with the digital foundation for their core business processes and the platform for effective collaboration both within and beyond company boundaries. Ask us how today!
Abhijit Nadkarni Program Manager – SAP @YASH Tehnologies

Program Manager – SAP @YASH Tehnologies