Digital Workplace
Embrace employee work styles with a secure digital workplace
Publish Date: May 24, 2022
Today, the workplace is no longer the physical space employees occupy during regular office hours. The lines between the physical office and where work happens have increasingly blurred in today's always-connected, instant-access environment.
Three out of four companies let their employees use their own devices to access business applications and employees want to communicate and collaborate in multiple ways. As a response, leading organizations have begun implementing an entirely new working environment – the digital workplace – to accurately reflect their employees' changing work experiences. In the core of this requirement, security is positioned as a one of prime aspect. Enterprises expects from the digital workplace that it should work securely — any time, from anywhere and from any device by providing Frictionless and secure access to all apps and data.
The digital workplace breaks down communication barriers by integrating employees' technologies (from e-mail, instant messaging, and enterprise social media tools to virtual meeting tools and HR applications), positioning you to transform the employee experience by fostering innovation, efficiency, and growth.
However, the key to success is – implementing a secure digital workplace strategy capable of driving true measurable change across enterprise.
How enterprises develop a secure framework
In past 2 years, we have seen that the status quo has been challenged and the way we work has been redefined. We have seen that user experience is sitting at the core of the holistic framework along with security. User experience or customer experience is rapidly changing with the same rate by which enterprises are adopting new technology to empower mobile workforce around the globe.
Post pandemic many large and midsize enterprises rethink their strategy to enable their employees to work from any location while making sure they have secures access to the data and applications.
Have enterprises ever thought that how can they will be able to get more visibility and control on their digital workplace infrastructure which may be hybrid or dispersed across multiple dimensions.
Post pandemic, we have seen the mobile workforce or remote workforce in its true shape and form with ever-growing requirement to enhance overall experience. it also force us to think as Complexity increases in the infrastructure delivery of workplace services, also create significant entropy into the system.
To achieve an efficient and reliable workplace framework Organizations must develop a governance model that supports connectivity and collaboration while mitigating risks and enabling compliance. Apart from developing a strategy and building your digital workplace toolbox, it would be best if you were Positioned to address any governance and security issues your organization may face.
Some initiatives that enterprises can adopt are:
Information monitoring, collection, and analysis: This permits you to determine the information being shared as well as the risks that may jeopardize your organization's reputation, competitive edge, productivity, or confidential information protection
Organizational Change management: design and implement a seamless strategy with a thought through approach to drive upcoming changes across the way of working and receiving services. driving the right conscious across the stakeholders and get feedback with consistent course correction on how the services are being consumed and perceived by all internal and external consumers.
Policy training: Apart from technical training, employees must receive policy training on what information they should and should not share in the digital workplace. It would help if you also communicated policies on handling personal data correctly and avoided tarnishing your organization's brand. Remember, extensive employee training is paramount to a robust digital workplace implementation.
Orchestrated presence: You should proactively plan out your channels in the digital workplace. Organize the flow of information to and from various channels to avoid a fragmented model in which different groups use disparate tools and communicate in silos
Cybersecurity as forethought: While training and raising cybersecurity awareness among your workforce is important, incorporating security features into your digital workplace solution will provide a better perspective on the role of securing the workplace. Features such as encrypted communication, two-factor authentication, and redundant storage in your workplace solution, for example, will emphasize the importance of security in the digital workplace. Building a secure solution from the ground up, or implementing security from the beginning, will keep your digital workplace safer.
IT asset management: Most digital workplace solutions include security-oriented modules, which IT departments can use to improve digital workplace security while also introducing new security features. IT asset management tools, for example, are operated by organizations all over the world to keep track of their hardware and software and keep it up to date with the latest security patches. However, by integrating an asset management solution with your digital workplace, you can better monitor these assets. For example, if an employee's laptop is connected to an unsecured WiFi network or tries to insert a virus-infected USB drive, an automated IT asset management system can quickly isolate the device and keep the rest of the workplace safe.
Selecting a Right Partner: Since remote working increases the IT attack surface, you may find it beneficial to work with a managed service provider who can oversee the security of the entire IT management network. A service provider provides specialized expertise while relieving the burden on in-house IT teams. Most importantly, they can assist you in keeping systems, applications, and devices up to date so that your company has the best possible protection and is well-positioned to stay on top of emerging threats and trends.
Stay vigilant
It is critical to remember that leaders and IT administrators will not have complete control over the remote working network. Therefore, implementing secure digital workplace solutions is critical for mitigation and when or if a cyber-attack occurs from a remote location. It is possible to create a digital work environment where leaders and employees can have confidence with the right technology partner and digital workplace solutions.
How YASH Technologies can help
At YASH Technologies we can help enterprises in designing in end to end modern workplace strategy end seamless execution. workplace services from YASH Technologies is designed to deliver the highest level of security using hybrid technology landscape and delivery model the leverage virtualization, mobility, situation aware security. We deliver all the workplace services in single pane of glass by consolidating all end user computing services. This will avoid duplication of investment and improved end user experience and satisfaction.
Benefit from Workplace Services: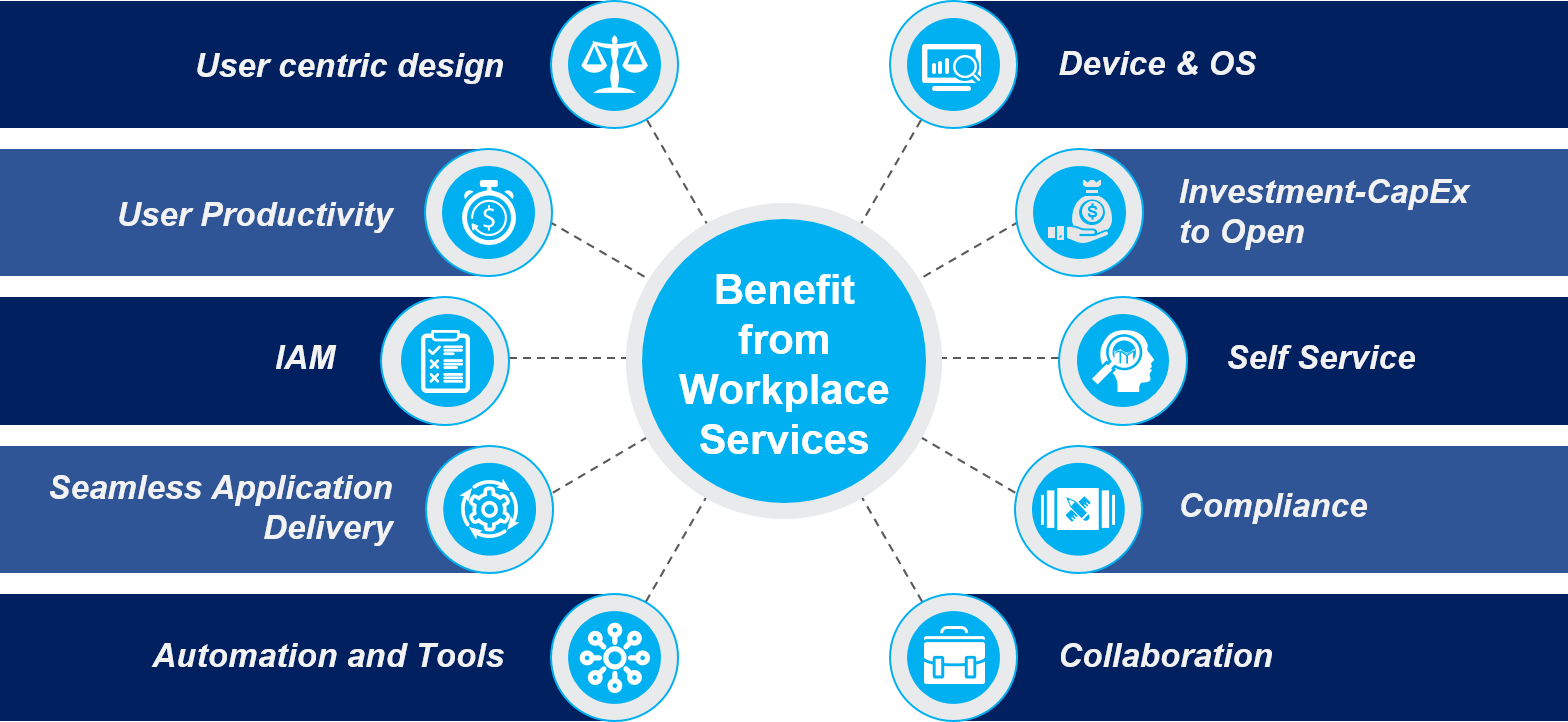 Want to know more about our offerings? Connect with us by dropping a note at info@yash.com
You can also connect with the author of the blog directly by clicking here.