Manufacturing organizations across the globe are challenged continuously with issues related to:
Disparate data sources
Material and Product tracking
Asset and Manpower utilization
Quality and Compliance
Live shop floor analytics
Manufacturing organizations are compelled to embark upon Industry 4.0 journey to devise sustainable solutions to these challenges while transforming their manufacturing operations.
**Benefits of the Industry 4.0 implementation are :
30-50% reduction in equipment downtime
20-50% reduction in inventory holding cost
10-20% reduction in cost to quality
3-5% productivity improvement
** Source: Global consulting leader
The IT/OT convergence is a key tenet of Industry 4.0 journey. IT/OT convergence aims at the integration of information technology systems used to manage the business, i.e., ERP (Enterprise Resource Planning), CRM (Customer Relationship Management), SCM (Supply Chain Management) with the Operational Technology systems used to perform manufacturing operations. Examples of OT systems are SCADA and PLC controls, MII , PCo used in industrial plants.
Industrial IoT solution platforms have a major to play in IT/OT convergence and Industry 4.0 journey.
Key solution components that facilitate IT/OT convergence are: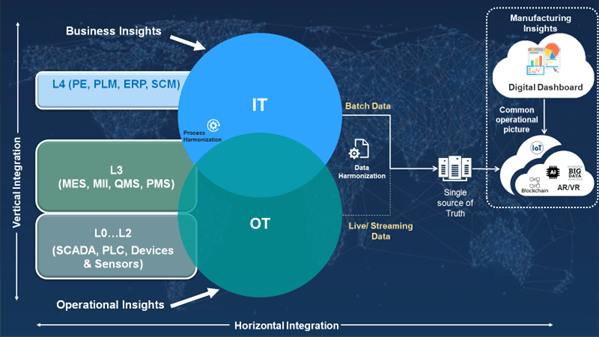 Horizontal and Vertical Integration
Horizontal integration connects customers, manufacturers, and their supply chain. Vertical Integration connects shop floor to top floor to provide clarity in business plan execution. One example of vertical integration is connecting MES with ERP and SCADA systems.  Horizontal/Vertical integration make the departments and functions more cohesive which is foundational for IT/OT convergence.
Process and Data Harmonization
Process harmonization focuses on standardization of processes and establishing Lean manufacturing to improve efficiency. Data harmonization creates a single source of truth by integrating and rationalizing data from Information Technology and Operational Technology (IT/OT) sources. Enterprise-wide harmonization increases the agility, flexibility and accelerates digital innovation to improve business outcomes.
Industrial IoT Platform and Solutions
The seamless and secure integration of streaming sensor data from Operational Technology sources with data from Information Technology creates a 'Digital Thread and Twin' and a 'Common Operational Picture". Industrial IoT complemented by other digital technologies such as Cloud, Analytics and Machine Learning play a key role in driving IT/OT convergence.
c5mi-YASH as a Partner in Customer's Industry 4.0 Journey:
The c5mi-YASH Live FactorySM solution is equipped with frameworks and accelerators to drive the industry 4.0 journey of manufacturing organizations.
The c5mi-YASH Live FactorySM solution has key frameworks and accelerators to accelerate the Industry4.0 journey for Customers. We have end-end experience in the Information/Operational technologies of manufacturing ecosystem, digital technologies, and Industry 4.0 domains. Our rich functional expertise, coupled with skilled resources in digital platforms such as SAP Leonardo, PTC Thingworx…. are our key differentiators.
Pindiproli Mohan Krishna Achyutarama Rao – Asst VP@YASH Technologies
Comments
No Comments
Add Comments